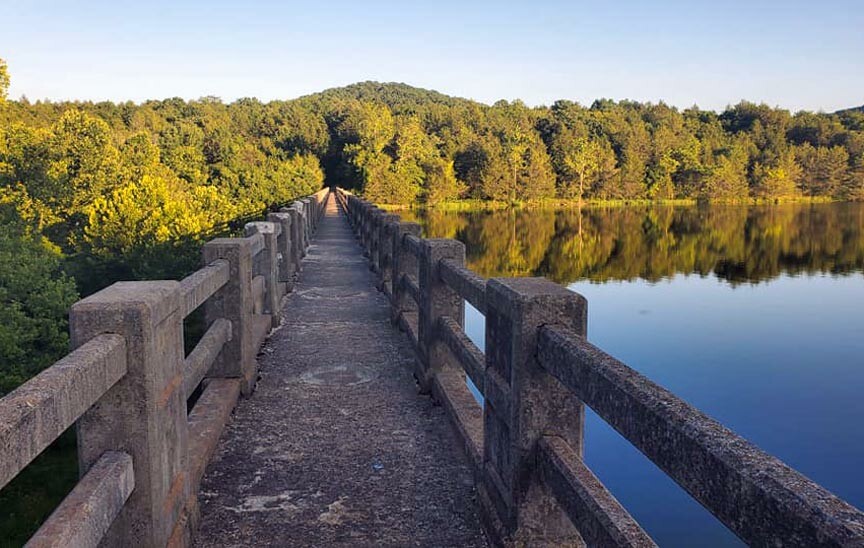 Did you know that Eureka Springs' Lake Leatherwood City Park is home to one of the largest hand-cut limestone dams in the country? It's true – but that's not the only reason you'll want to visit this beautiful outdoor recreation area.
Hiking, fishing, boating, birding, and history. Lake Leatherwood City Park has it all – and then some!
The 85 acre spring-fed lake, and other areas in the park, were created in the late 1930s by the Civilian Conservation Corps. Lake Leatherwood dam took two years to complete and the park is now listed on the National Register of Historic Places. The limestone used in the park's construction is native to the area. In fact, Lake Leatherwood Loop Trail passes by the very quarry it was mined from.
Lake Leatherwood's gorgeous serenity will have you feeling miles away from civilization – but the park is actually quite close by. Just two miles west of Eureka Springs off U.S. Hwy 62 and only ten minutes or so from our Eureka Springs inn, 5 Ojo.
Visiting the Park
Lake Leatherwood offers more than 1600 acres of recreational opportunities, including hiking, biking, picnicking, boating, and fishing.
The park maintains over 25 miles of trails with varying terrains for both hiking and biking but closed to motor vehicles.
The Lake Leatherwood Loop Trail (3.5-miles/5.6km) is a popular hike that tours the park, taking you over the historic dam. Miner's Rock Trail takes you past a natural, unique stone formation of the same name. In fact, the park is home to many interesting rock formations.
Want to get in the water?
The park offers a boat launch and boat rentals of paddle boats, stand up paddle boards, kayaks, and canoes. Paddling your craft from the boat ramp to the historic limestone dam and back is a wonderful and scenic experience. The lake's designated swimming area includes a nearby, WPA era bathhouse to change and shower in.
Anglers will love the lake's population of blue gill, crappie, bream, large mouth bass, and channel catfish. Best of all, an on-site Bait Shop offers poles, bait, tackle, and more. Anyone 16 years and older will require an Arkansas fishing license to wet a hook.
Birders will thrill at the park's 120 different bird species, like heron, ducks, geese, bald eagles, and wild turkeys. Area wildlife includes white-tailed deer, bobcats, raccoons, and a variety of snakes.
Lake Leatherwood City Park
With so much to see and do, it is easy to spend half or even the whole day at Lake Leatherwood. Pack a picnic lunch, get some appropriate gear together and go explore!
5 Ojo will be here when you get back, providing you the best night's sleep you could ask for, followed by one of our delicious gourmet breakfasts.
See you soon!