Breakfast
Enjoy an Authentic, Epicurean Eureka Springs Breakfast at Our Inn
The delicious gourmet breakfasts are one reason guests keep coming back to our Arkansas bed and breakfast inn. Masterfully prepared with only the freshest ingredients and often featuring locally grown produce, our elegant Eureka Springs breakfast is served in the Sweet House dining room.  Fresh fruits and homemade baked items start off each guests morning, followed by a hearty main course.  Our signature Baked Pancakes are always a hit, with Ham & Cheese Souffle and Baked Cinnamon French Toast coming in a close second.  Special dietary needs such as diabetic, food sensitivities, gluten-free, vegetarian and vegan can be accommodated with advance notice.
Below are some examples of the "real deal" Eureka Springs breakfast menus you might enjoy while staying at 5 Ojo Inn Bed and Breakfast. To experience a taste of the Inn in your own home, prepare one of our signature recipes featured below.
Sample Eureka Springs Breakfast Menus
Sliced Apple with Raisins, Walnuts and Honey Poppy seed Dressing
Banana Nut Muffin
Eggs in a Bread Bowl
Crisp Smoked Bacon
Blueberries & Cream with Seasonal Fruit
Sour Cream Cranberry Muffins
Ham & Cheese Soufflé
Breakfast Potatoes
Corn & Honey Muffins served with honey butter
Baked Cinnamon French Toast w/fresh blueberries & warm maple syrup
Sausage Links
Fresh fruit
Chocolate Banana Muffins
Waffles w/Cinnamon Apples & fresh whipped cream
Sausage Patties
Featured Recipe
 5 Ojo Baked Apples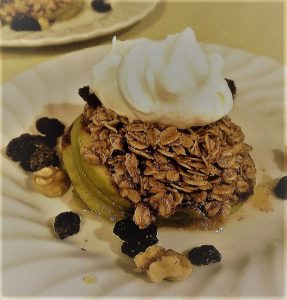 —— Ingredients —–
8 Granny Smith Apples
1/2 cup (1 stick) salted butter, melted
1/3 cup sugar, plus 2 Tablespoons for sprinkling
2 teaspoons ground cinnamon
3/4 cup old-fashioned or gluten-free rolled oats
Dried raisins, walnut pieces and Whipped Cream for topping
1.  Preheat oven to 350°F.  Line a baking sheet with parchment paper for easier clean-up.
2.  Using a hand operated Apple Slicing/Coring/Peeling machine, rid each apple of its' core and engage the slicing tool, but not the peeling mechanism.  After coring and slicing apples, cut each in half, leaving the hole in the middle to add filling during cooking.  Place each apple half on baking sheet, brush with butter and sprinkle with the 2 tablespoons of sugar.  Place in oven and bake for 20 – 25 minutes.
3.  While apples are baking, mix the remaining melted butter, rolled oats and ground cinnamon in a bowl.  Set aside.
4.  Remove apples from oven after they have baked 20 – 25 minutes.  Spoon rolled oats mixture into hole in the middle of the baked apples.
5.  Return apples to oven and bake an additional 15 minutes.  Once cooked, lower oven temperature to 170 degrees until ready to serve.  Top with dried raisins, walnuts and whipped cream.
ENJOY!