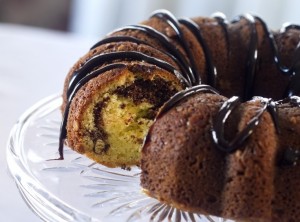 At our Eureka Springs Bed and Breakfast we love to  serve our guests dessert for breakfast and we wanted to share our Moist Chocolate Pistachio Cake recipe with you. It's one of our favorites and we've found if you slightly heat the cake before serving, it adds a subtle richness to the taste.
Ingredients:
1/2 cup chopped pecans
1/2 cup semi sweet chocolate chips
1 package plain white cake mix; (18.25 oz)
1 package pistachio instant pudding mix; (3.4 oz)
1/2 cup sugar
1 cup water
1/2 cup vegetable oil
4 large eggs
1/4 cup cocoa powder; (we use Wilbur Chocolate)
vegetable oil for misting pan
flour for dusting the pan
Directions:
Preheat the oven to 350°F. Lightly mist a 12 cup Bundt pan with vegetable oil, then dust with flour. Shake out the excess flour. Sprinkle the pecans and chocolate chips evenly in the bottom of the pan. Set the pan aside.
Place the cake mix, pudding mix, sugar. water, oil and eggs in a large mixing bowl. Blend with an electric mixer on low speed for 1 minute. Stop the machine and scrape down the sides of the bowl with a rubber spatula. Increase the mixer speed to medium and beat 2 minutes more. The batter should look thick and smooth. Remove 1 cup of the batter to a small bowl. Mix the Wilbur's Cocoa into the small bowl and stir until the mixture is well combined. Set aside.
Pour the remaining batter into the prepared pan. Pour the chocolate batter over the top, trying to keep the chocolate batter away from the edges of the pan. Swirl the chocolate batter into the white batter using a dinner knife. Place the pan in the center of the oven.
Bake the cake until it is golden brown and springs back when lightly pressed with your finger, 55 to 60 minutes. Remove the pan from the oven and place it on a wire rack to cool for 20 minutes. Run a long, sharp knife around the edge of the cake and invert it onto a rack to cool completely, 20 minutes more.
Optionally, pour some chocolate sauce over the cake.
Yield: 16 servings
Cook Time: 60 minutes
The next time you make it to Eureka Springs, AR for a getaway let us know if you'd like us to serve this fabulous cake for breakfast. Also, we have tried a lot of chocolate deserts at many of Eureka Springs' restaurants, so when you are here relaxing, ask us to lead you to some great chocolate treats.