Are wedding bells in your future? If you are planning to have a small gathering, we humbly offer our Eureka Springs bed and breakfast as an ideal location for a destination wedding and the beginning of a beautiful honeymoon.
Our inclusive wedding packages include the use of our Victorian parlor inside the home or the garden gazebo for an outdoor ceremony, as well as a small traditional wedding cake, a romantic carriage ride through town and a two night stay in one of our Jacuzzi suites, along with other small touches to make the day memorable. This type of ceremony starts at only $510.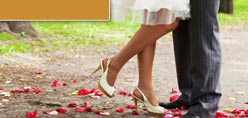 If you are looking for something smaller or more intimate, we have options for you as well. If you simply want the use of our grounds and do not need lodging, consider our other wedding packages. We will organize the minister and take photos with your camera. These packages cost under $200!
Honeymooning in Eureka Springs?
We have a special package for newlyweds! We have everything you need to live, eat and be entertained in style. Choose one of our luxurious suites for your honeymoon, with a Jacuzzi for two. Inside your suite, we will have fresh, seasonal flowers.
Enjoy our three-course, homemade breakfasts every morning and a gift certificate to some of the finest dining in Eureka Springs.
Lastly, luxuriate with a couples hour-long massage and a romantic carriage ride. All of this for $545! Want to stay longer than two days? We will apply a discount should you want to extend your stay.
We are always honored when couples, young or old, decide to share this special time in their lives with us. Here is a review from Tripadvisor from a couple that spent their wedding anniversary at our B&B last year:
"This was our second visit to 5 Ojo. We were celebrating our wedding anniversary. We got married in the parlor of 5 Ojo and stayed in the Wedgwood room on our wedding night and stayed in the same room this trip. Richard & Jan were very pleasant and made us feel right at home. The room was beautiful and everything was very clean. Breakfast was delicious with a variety of choices. It gave us a chance to meet the other guests as well. Loved having a coffee maker in the room along with a variety of coffees plus snacks, pop & water. Richard & Jan were also very helpful in suggesting places to eat and visit while we were there. Will definitely stay there again. Can't wait."