Were you ever tempted to attend Mardi Gras in New Orleans? Most of us have felt an urge to see the spectacle. Well now you can catch some of the New Orleans flavor in Eureka Springs with Eureka Gras!
2013 marks the seventh year that Eureka Springs has held it's own Mardi Gras celebrations. Eureka Gras has grown phenomenally over the last few years; now it is becoming a beloved tradition and is here to stay!
There will be several events leading up to grand parade and celebrations. Saturday, January 19th is the Taste of N'Awlins, beginning at 2 p.m. at Keel's Creek Winery – a quick 10 minute drive out of town from our Eureka Springs bed and breakfast. Make believe you're at Cafe Du Monde in the French Quarter and enjoy cafe au lait and Beignets. Keel's Creek Winery also has an art gallery located inside its spacious Spanish-style building. Relax with a creamy cafe au lait and sit by one of the fireplaces while enjoying the art and meeting some Mardi Gras aficionados.
Upcoming Eureka Gras Events: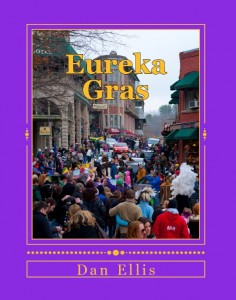 Several events lead up to the major parade and celebration. Here are some:
Saturday Jan. 26, 5 p.m. ~ Christening of the Floats. Cash bar, dancing and 2nd Lining at the Rowdy Beaver Tavern, 417 West Van Buren.
Saturday, Feb. 2, 6 p.m. ~ Krazo Light and Sound Parade. The Krewe of Krazo floats will be rolling down Main and Spring Streets starting a 6 p.m. The after party takes place at the Rowdy Beaver Tavern.
Planning to Attend Eureka Gras?
If you think Mardi Gras in Eureka Springs sounds like the kind of break you need mid-winter, we have plenty of lovely B&B guestrooms still available for mid February, when the major parades and celebrations take place. We hope you will consider staying with us during your visit in Eureka Springs!