We are really getting excited about gearing up for the Grand Illumination in Eureka Springs. Yesterday afternoon our Japanese lanterns arrived. We expected a big box with lanterns we could run around and hang up all over the bed and breakfast.
But here's what we got and we asked ourselves, how do we get from this……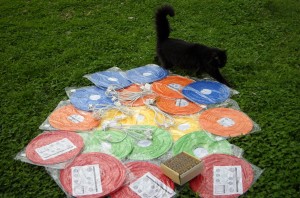 to that masterpiece of art we imagined? We looked but, hey, no instructions?
But wait…is that an apparition in the picture? Or is it….yes it is, it's Mojo the Japanese art cat to the rescue. Phew! We wonder what design she has conjured up in her mind.
We'll post a picture of Mojo's creation once the decorations are up and you can see for yourselves.
The lanterns will start going up all over Eureka Springs beginning April 28th. On Sunday May 1 the annual lighting of the Park will begin at Twilight. This year the Grand Illumination has added Upstairs Downtown Tour and Taste from 4-7 pm. You will be able to visit inside stunningly designed hidden downtown homes and studios and enjoy delicious treats provided by area restaurants.