We went to the new Ozark Medieval Castle in Lead Hill, Arkansas. It was fantastic! We really enjoyed interacting with the workers and they seemed to enjoy talking to the visitors. It was truly an educational and fun experience. It's about an hour from Eureka Springs and worth a day trip to see it or better yet, on your way here or going back home.
Here's what they say on their website. "Have you ever dreamed of medieval castles? Real strongholds of the past, built with quarried stones, felled oaks, forged tools, and bare hands. Do you wonder how it felt to raise these fortresses from the ground up, to perform such an amazing feat? Well, now you can see for yourself."
They are building the castle using only the tools used back in medieval times. It will take them until 2030 to complete.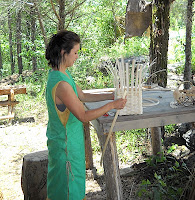 They have a blacksmith making their tools, a basket weaver making the baskets they use to haul stones, a rope maker, a brick maker. We didn't know there were 4 different levels of masons for doing the different types of work required.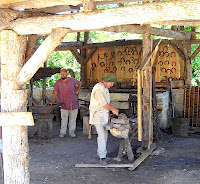 One of the carpenters (thinking like a more modern carpenter) said if they could only have one power tool it would be a chainsaw. While we were there they were creating by use of an broad ax 6 by 6 inch beams to be used as scaffolding and drilling holes for the pegs with a hand tool.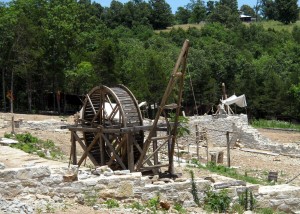 Here's an interesting tidbit. We found the carpenters were not seasoned craftsman in the medieval style of construction as they were still learning the old techniques. One of them told us they found an old broad ax and were disappointed that it had a warped handle.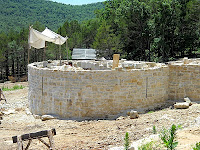 Well, after they tried it they realized that when you are swinging the ax while standing on top of a beam, the curve sure helps to keep the ax away from your leg and foot thereby keeping you from becoming a one-legged pirate. They had a whole new respect for early craftsmen.
On the left is the first tower they are building. The scaffolding the carpenters are building will be used to create the next level of the tower. Below is a video of the the lifting device they will use to raise the stones. There is a man in the middle and you can see the log being lifted in the right of the picture. A person can lift ten times their weight with this device. Jan, playing the court jester, kept yelling, "Faster, Faster".
Hope to see you here soon. We'd love to have you visit us.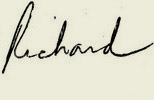 Visit our bed and breakfast website to check on availability.