Last year we stopped at Hobbs State park to see the new visitor center that had opened up. Hobbs is only about 20 minutes from Eureka Springs, AR. We were impressed with the center as well as what they had done with the state park area. While we were there we noticed they were offering guided tours by the park rangers as well as some classes. Below we have listed one class we are considering ourselves (at least the hiking part of it). We may have to wait until the tourist season slows down before we can make it, but we think living in Northwest Arkansas, this would be an excellent class.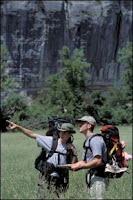 About the park the states website says, "The park's 17,531-square-foot visitor center opened on May 27, 2009. This $4.5 million, state-of-the-art facility features Ozark focused exhibits including interactive kiosks, classroom space, a retail sales area, and the park's administrative offices. WI-FI wireless Internet access is provided in the visitor center."
The 'Basic Back Country Hiking and Camping Training' being offered is a one-day training session on the fundamentals of back country hiking and camping given at Hobbs State Park – Conservation Area on Saturday, June 26th, 2010 from 10 AM until 3 PM. This basic training is for all age groups. Examples of topics to be covered are: The joys of back country hiking; basic camping; how to pack and carry needed supplies and equipment; how to select a camp site; how to set up a camp site; basic map and compass skills; how not to get lost; proper dress and layering; how to build a fire and cook meals; basic safety and survival knowledge; plus Leave No Trace Ethics. The course is designed for those with little or no camping experience. Cost: $25/adult and $10/12-17 yrs. Call the park office for reservations at 479-789-5000.
If you take the class, what better way to relax than with a massage and stay at a bed and breakfast in Eureka Springs, AR.
Romantic Getaways at 5 Ojo Inn Bed and Breakfast, Eureka Springs, Arkansas