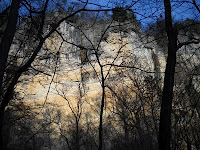 We had a little down time this week so we did something we've been trying to do for a while now. We did a day trip to the Buffalo River, a 150 mile long river with natural wilderness, towering limestone bluffs, canoe outfitters, campsites, hiking trails, and three wilderness areas. We decided to go to Lost Valley which is about a 1 1/2 hour drive from Eureka Springs, Arkansas where our bed and breakfast is located.
First we went to Jasper, Arkansas and had lunch at the Ozark Cafe which has been serving food to the locals and travelers for the last 100 years. We stuffed ourselves with plenty of carbohydrates for our pending hike and took with us two of their desserts for an afternoon pick me up.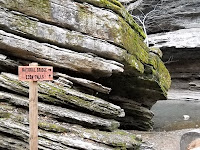 The first stop on our hike was the Natural Bridge, about a 15 minute hike on a fairly easy trail, the first 1/4 mile of which is wheel chair accessible. I'm glad it was easy because we decided it wasn't such a good idea to eat a big lunch of carbs right before going on a hike. The area around the initial hike was through a wooded area next to a stream which was dry at the moment. The pictures below are of the Natural Bridge area. As you can see, we took our dogs who felt right at home jumping across rocks and through the streams. It was a quiet, peaceful hike through some great scenery.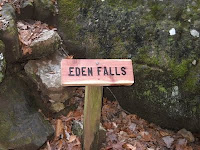 We then took the trail up to see Eden Falls. This trail was a little harder as it headed uphill and became a little rocky.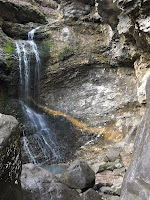 But we had worked off enough of our lunch that the going wasn't too bad. Along the way I took a pictures of the cliffs (see above) which tower over the river. The total time to hike up to the falls and back was about 2 hours at a leisurely pace.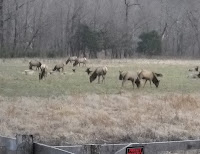 Driving out of the park we ran across a herd of Elks which are prevalent in the area.
Once we arrived back home in Eureka Springs, we knew the dogs had enough exercise as they plopped down and didn't open their eyes again until the next morning. Of course, we did pretty much the same thing.
5 Ojo Inn Bed and Breakfast, Eureka Springs, AR