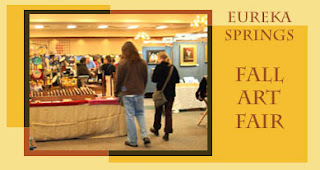 We love to visit the local galleries and artists studios to enjoy their creations. We really are lucky here in the Ozarks to have so many artists in one place. Did you know that Eureka Springs is listed as one of the top 25 art destinations?
To both view some of these artists work and even have a chance to buy some, you should plan on attending the 5th Annual Eureka Springs Fall Art Show presented by Arts Eureka. It will be at the Inn of the Ozarks Convention Center, Saturday, Nov. 28 from 9 a.m. until 7 p.m. and Sunday, Nov. 29, from 10 a.m. until 5 p.m. It's just down the road from 5 Ojo Inn Bed and Breakfast.
This year's show features extended hours, new exhibitors offering art for sale, and artist's give-a-ways. All artwork is judged by a three-member panel that includes representatives from the University of Arkansas, the Crystal Bridges Museum of American Art, and KY3 TV of Springfield, Missouri.