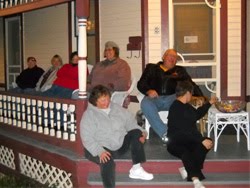 What great fun we and our bed and breakfast guests had on Halloween night this year. As usual the historic loop where we are located was crowded with trick or treaters, young and old. Baby's dressed in cute bug and animal costumes, kids in transformer, ninja, princess, devil and all kinds of other kinds of costumes. We're always amazed and impressed with the number of adults who also dress up in costume. What a visual joy!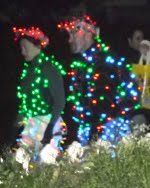 Being a town full of artists some of the costumes were very unique. Here's a picture of a couple who were lit up from head to toe.
We started at about 5:30 p.m. and handed out candy until 9:00 p.m. when we ran out of candy. We estimate there were around 500 kids this year. The candy store loves it.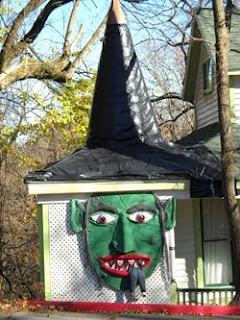 There is a house down the street from us that has been called the Witches House for years. Their gazebo has a pointed roof which they drape in black plastic and put a face on the front. The design has been different over the years, but always creates a mini-traffic jam on Halloween night.
If you want to laugh and smile and see great costumes, join us next year here in Eureka Springs, Arkansas for an old-time classic night of Halloween Trick or Treat.
5 Ojo Inn Bed and Breakfast in Eureka Springs, Arkansas.