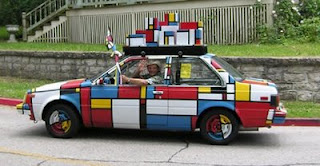 Think cars are just for driving? Not so in Eureka Springs, AR. This Memorial weekend we had an Art Car parade. These aren't your typical painted show cars nor are they the same as those trucks painted on the CMT Trick My Truck reality show. No, these are actually works of art with imagination plus.
Checkout some of the cars in these pictures. Click the images for a bigger picture.
There are quite a few car parades in Eureka Springs and most of them drive the historic loop right by our place, 5 Ojo Inn Bed and Breakfast. It's fun to getaway for a relaxing, romantic weekend and sit on our porches sipping a cool drink while watching the Mustangs, VWs (my son in-laws favorite), Antique cars (my favorite), PT Cruisers, Corvettes and once even old police cars. Come join us sometime!…..Richard
In the picture below, the van has box and other old cameras covering it and the design on the van is a picture of a camera. Click it to see a larger image.