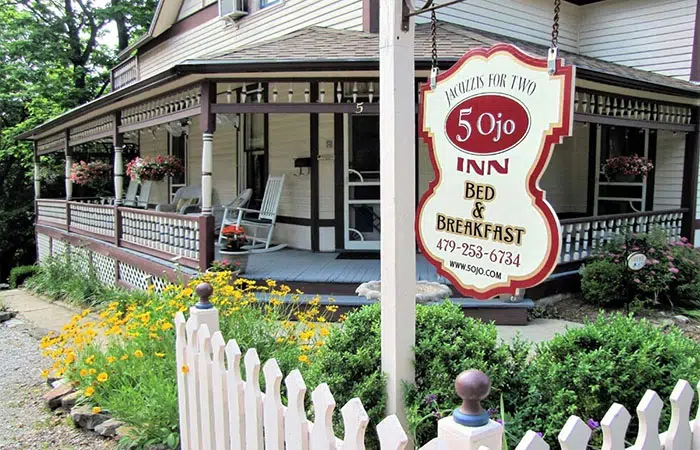 2022 has been a great year with friendly guests, tons of fun events to attend, and lots of good times here at our Eureka Springs Bed and Breakfast. We can only assume things will continue along in the same vein and we're eager to see what 2023 will hold.
There's nowhere quite like Eureka Springs, AR and we're so very proud to be a part of the community. Though Eureka Springs is just a small town in northwest Arkansas, its rich history and lively arts community make it a year-round vacation destination. We're well known for our historic Victorian buildings, the area's many natural springs, and popular, annual music and art festivals.
The downtown historic district is the main attraction with its stunning Victorian architecture. Spend the day exploring downtown's eclectic shops, museums, eateries, and lovely spots like Basin Spring Park. All just minutes away for guests of 5 Ojo, who can use our Eureka Springs Trolley passes. How's that for friendly convenience?
That's not all, either. The Eureka Springs area is home to a number of iconic attractions. Must-see stops like Cosmic Cavern, Blue Spring Heritage Center, Thorncrown Chapel, Turpentine Creek Wildlife Refuge, War Eagle Mill, The Great Passion Play, home to the 7-story tall Christ of the Ozarks, and so much more!
5 Ojo is Eureka Springs only 4-star historic B&B. Our multi award-winning inn is located on a large wooded lot atop the highest peak within city limits, yet downtown is just a short stroll away. But you don't have to take our word for it. Look what some of our guests have had to say.
2022 Reviews of our Eureka Springs Bed and Breakfast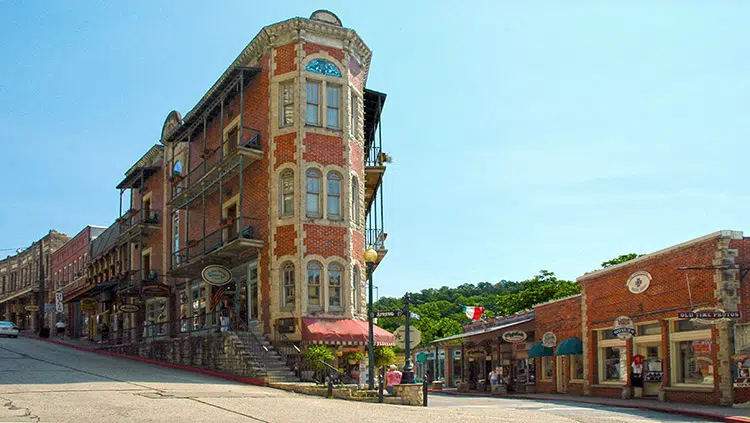 Lucinda Breeding-Gonzales – 5/5
October 2022
"This beautiful, comfortable B&B benefits from gorgeous Arkansas scenery and the quirky resort town of Eureka Springs.
But this spot would excel wherever it was located, because the management understands hospitality. These folks could teach a master class on comfort and value.
I stayed in the Honeymoon suite with my wife for our first wedding anniversary. We drank sparkling wine on the porch swing looking out over the ravine. The bed was ridiculously comfortable and the shower and tub were clean with great water pressure.
But the biggest perk was how wonderful my vegan breakfasts were. Best example: beautiful baked apple with oatmeal crumble; just egg and vegan sausage with pesant potatoes, and the sweetest wedge of fresh cool watermelon. OMG, the fresh cherry tomatoes were sweet and savory. They even included a vegan cookie withe their signature afternoon treat.
It's such an imposition to be vegan when you travel. To be accommodated so thoughtflly, and with such care is beyond memorable. The innkeeper even sent me back to our suite with plant-based milk for my coffee.
Bravo to this crew. Book it today!"
Christy Harmon – 5/5
November 2022
"Sets the bar for B&Bs:
This is our 5th trip to Eureka Springs and 4 the stay at 5 Ojo. Susan and Tom are wonderful hosts. The rooms are clean and we'll appointed. Susan and Tom always make you feel like you're family. The location makes walking to downtown easy. The breakfasts and in room treats are the touches we love. You can't beat an evening in the hot tub surrounded by nature. If you are into fishing, some of the best around is within an easy 30-90 minute drive."
Les Mitchell – 5/5
November 2022
"My wife and I stayed at 5 Ojo last weekend. What a wonderful stay! It's a convenient walk to downtown but away from the traffic and noise. We had the Wedgewood Suite. It was clean and well maintained. The bed was large and super comfortable. There were some delicious chocolates to enjoy upon our arrival. And the molasses cookies the next evening were the best! Our breakfast both mornings was superb! Our hosts were so welcoming and helpful. I cannot say enough good things about our stay. Will definitely be back!"
Julie B – 5/5
October 2022
"Great place! Very comfortable, beautifully decorated, clean rooms, and excellent food. Susan and her staff were great and so friendly. The hot tub was well maintained and easy to use. The breakfast was so good, I never had to go out for lunch!"
Chelsie Whitmer – 5/5
April 2022
"My husband and I stayed in the Hummingbird Suite for our anniversary weekend getaway and it was a dream. The beauty of this place is in the details—the gourmet breakfast, the spring flowers, the wonderful and friendly staff, the chocolate chip cookies placed on your door knob in the afternoon. The jacuzzi in the suite is huge and perfect for two and the hot tub is very large and luxurious. We will absolutely be returning in the near future!"
5 Ojo Inn Gift Certificates
Give the gift of a Eureka Springs getaway!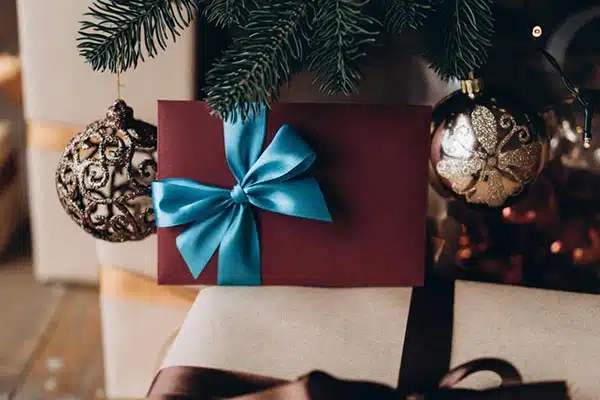 Imagine finding a Eureka Springs getaway in your stocking Christmas morning. You can, with 5 Ojo Inn gift certificates!
5 Ojo Inn gift certificates are the ultimate gift for any occasion. They be purchased for any amount between $100 to $400 and can be delivered instantly via email or any time you'd like. How's that for flexibility?
Our gift certificates are treated as cash towards your stay at our Eureka Springs bed and breakfast and can be purchased online.
Using them to book a stay is easy, too. Simply let us know at the time of booking online or via (800) 656-6734.
Happy Holidays!