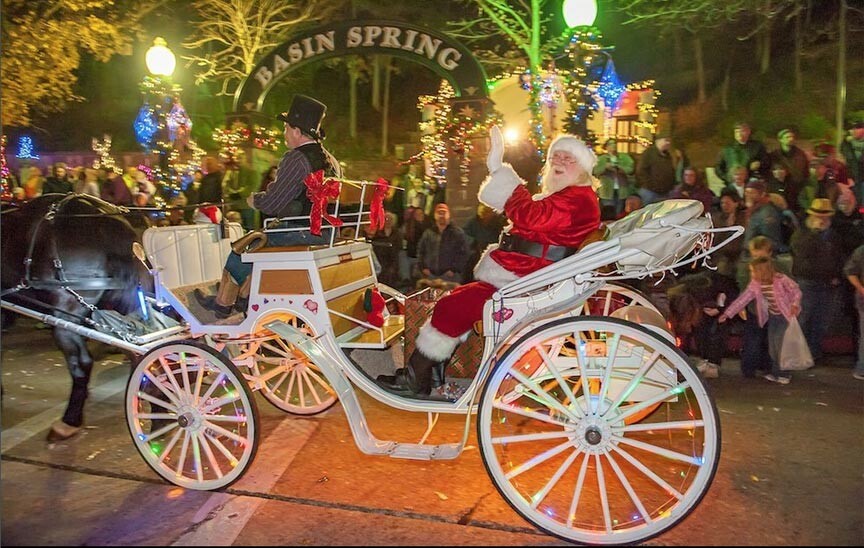 Experience the fun and magic of Christmas in the Ozarks with a visit to Eureka Springs this holiday season! Our little mountain town really kicks out the jams each year with a variety of a festive events. Concerts, holiday light displays, shopping opportunities, and don't forget the annual Eureka Springs Christmas Parade!
There's always a celebration of some kind in Eureka Springs, no matter the time of year. Once the holidays come rolling back around, however, look out! The fun starts right after Halloween and keeps going strong to New Year's Day. Just about everyone gets into the spirit, too, decorating town with colorful lights, sparkling tinsel, and happy, seasonal song.
Of course, we're not quite out of the pandemic woods yet. Consequently, the Eureka Springs holiday schedule isn't as chubby with events as it can be. There's no Eureka Springs Tour of Homes this year, for example, no Night of 1000 Santas.
Despite that, there's still plenty of holiday things and more to do and see. Things like the Eureka Springs Christmas Parade of Lights, for example. There's also lots of great shopping and dining and, let's face it, lots of Eureka Springs, which is why you came here in the first place.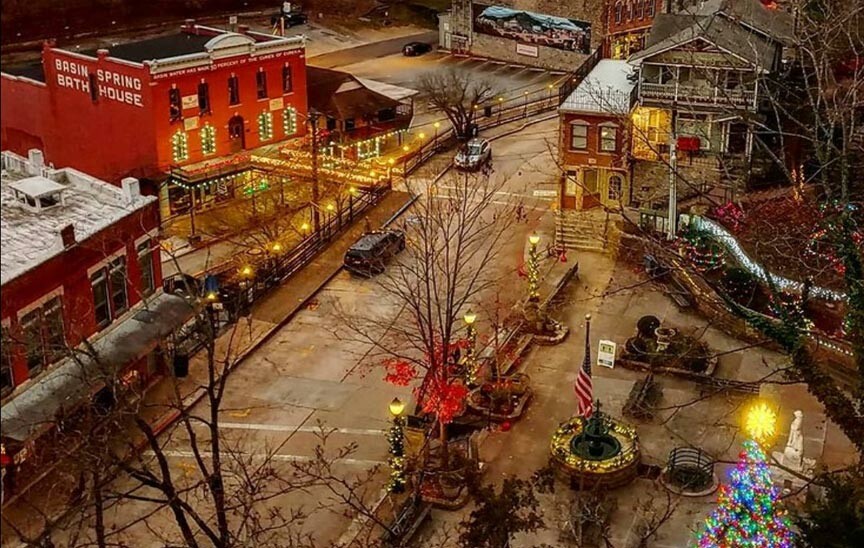 5 Ojo is proud to be a part of of this special community and sharing it with our guests. We're proud to provide the kind of service that has made us the only 4-star, historic inn in town. Plus, the location of our Eureka Springs bed and breakfast atop the city's highest peak puts the best of the region at your feet.
Come experience Eureka Springs this holiday season with a stay at 5 Ojo.
Eureka Springs Holiday Events 2021
Drive-Through Christmas Light Display – November 25th to January 1st, dusk to 8pm
Drive through a forest of over 300 Christmas trees and dozens of nativities to see the annual drive-through Christmas light show at The Great Passion Play. Open Fridays through Sundays, entry is by donation. You can also come by during the day to see the Snow Train Village. Learn more at www.greatpassionplay.org.
The Eureka Springs Christmas Parade of Lights – December 3rd, 6pm to 7pm
The annual Eureka Springs Christmas Parade of Lights is a night-time parade one of the state's most popular! Come watch the twinkling floats, walkers, and bands decorated for this year's "Cinematic Christmas" theme. Great fun!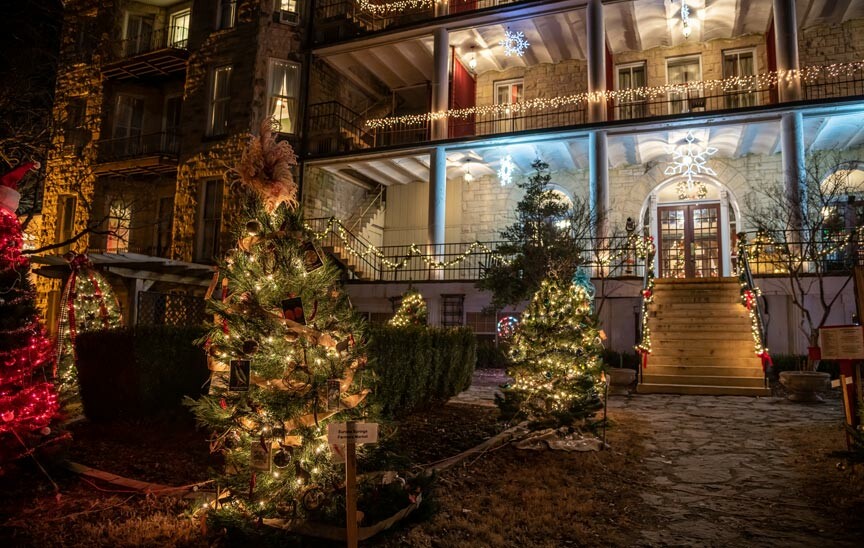 1st Annual Jinglin' Jeep Parade – December 4th, 1:30pm to 3:30pm
The first annual Jinglin' Jeep Parade through downtown Eureka Springs promises lots of fun for Jeep enthusiasts and Christmas fans alike.
The Lights Get Lit in Basin Spring Park – December 4th, dusk
Gather in historic Basin Spring Park for the annual holiday light lighting ceremony, featuring Santa, caroling, Eureka Springs' mayor, the Honorable Robert "Butch" Berry, and more.
19th annual John Two Hawks Holiday Concert – December 4th, 7pm to 8pm
Experience the enchanting, soaring vocals and flutes of Grammy nominated recording artist John Two-Hawks as he performs favorite songs from all his incredible Christmas albums. Tickets and more info.
Crescent Hotel Christmas Tree Forest – December 3rd through January 1st
Explore a forest of more than 30 brightly decorated and glittering Christmas trees at the 1886 Crescent Hotel. Learn more.