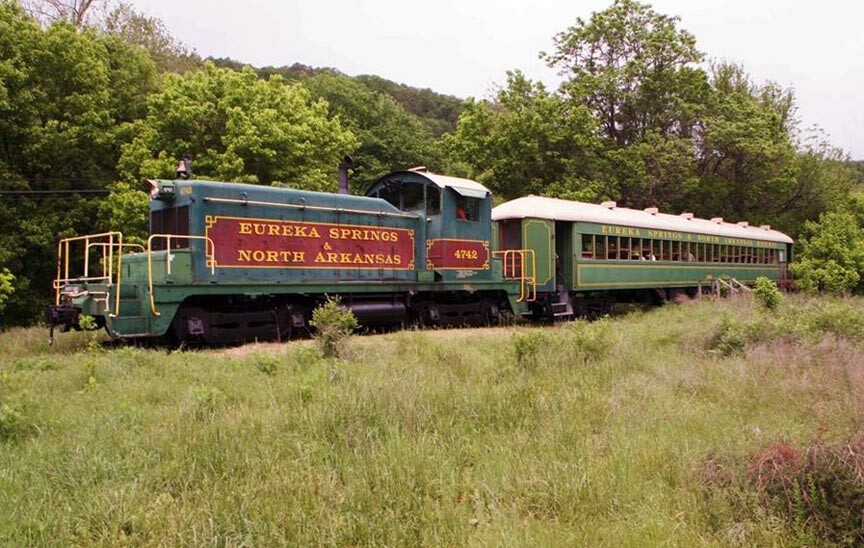 Step back in time with a train ride aboard a vintage locomotive on the Eureka Springs & North Arkansas Railway! Enjoy a narrated rail excursions, a lunch trip, or the special dinner trip from the historic depot. And all just minutes from the front door of our Eureka Springs Inn!
There's nothing quite like a ride aboard an antique locomotive.
While rail travel was once very common and mundane, today the experience is rare and unique. The chugging engine, the tug of the cars as they begin to move, the rhythmic clickety-clack of the rails. It's like living history and an amusement ride all rolled up in one.
If this sounds fun to you, then you should definitely consider reserving a ride aboard the Eureka Springs & North Arkansas Railway.
The Eureka Springs & North Arkansas Railway operates along a 2.5 mile (4.0 km) stretch of restored, Arkansas & Ozarks Railway track. Once upon a time, it was part of the historic North Arkansas Line.
The train takes off from a restored, historic stone depot and museum, and all just five minutes away from our Eureka Springs bed and breakfast, 5 Ojo!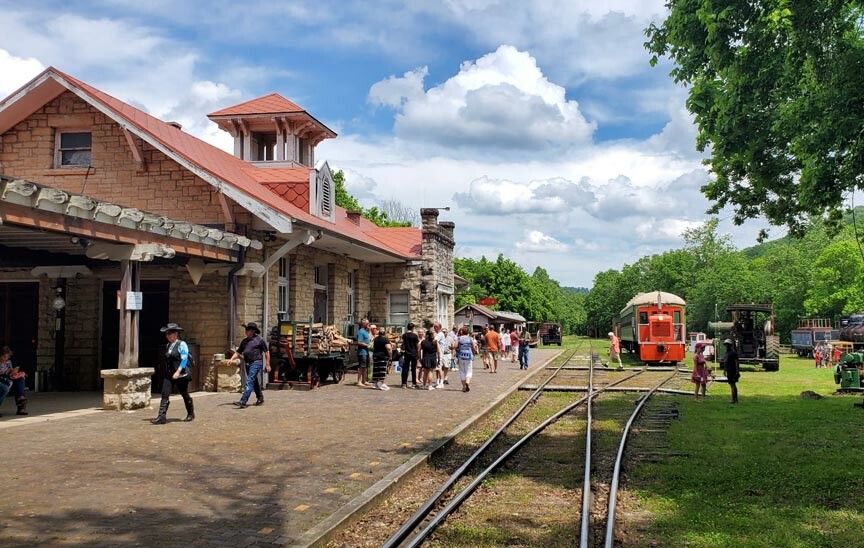 Eureka Springs & North Arkansas Railway

The Eureka Springs & North Arkansas Railway is located at 299 North Main Street in Eureka Springs, AR. This is just under a mile and a half from the inn, stop #71 on the Eureka Springs Trolley.
The historic depot has been converted into a rail museum with a collection of vintage locomotives and rolling stock.
One of the most exciting attractions is the authentic, working train turntable. Ever wondered how on earth they turn a train engine around? Well, now you can watch as it happens!
The depot baggage room has been converted into a Gift Shop with a selection of locomotive-related memorabilia and keepsakes.
The real thrills come once you board the waiting train …
All Aboard!
Eureka Springs & North Arkansas Railway currently offers three different train trips: an Excursion Train, Lunch Train, and Dinner Train. All three trips run from the Eureka Springs Depot to "Junction" Arkansas and back, a ride of approximately 4.5 miles (7.25 km).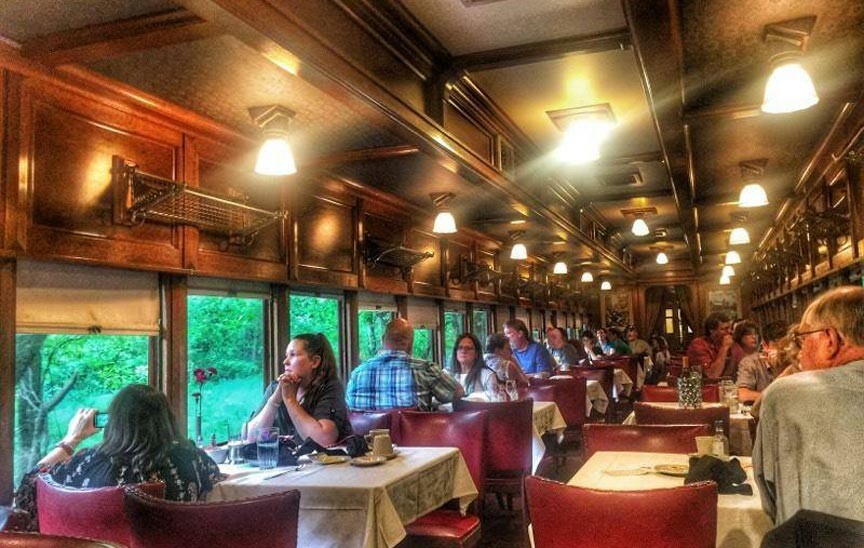 Excursion Train rides are narrated by the Conductor and last about an hour. Learn all about the history of the rail line and the area as you glide through the countryside. Snacks and drinks are available for purchase from the gift shop prior to departing.
The Lunch Train boards at 12:15pm for a 1.5 hour trip aboard the air-conditioned dining car. Offerings include items like beef stroganoff, ham and turkey, grilled cheese, chicken strips, and more. Served with fresh baked rolls, drinks, and dessert.
The Dinner Train boards at 5pm for a special, 2-hour dinner trip with wine and champagne. Enjoy entree's such as baked chicken breast, prime rib, trout almondine, and chicken primavera. All entreés are accompanied by soup and salad, fresh baked rolls, rice pilaf, mixed vegetables, and flaming baked alaska. Casual to semi-formal attire is suggested.
The Eureka Springs Railroad is open seasonally, April to October.
Visit www.esnarailway.com for tickets and more information. You can also follow the railway on Facebook.