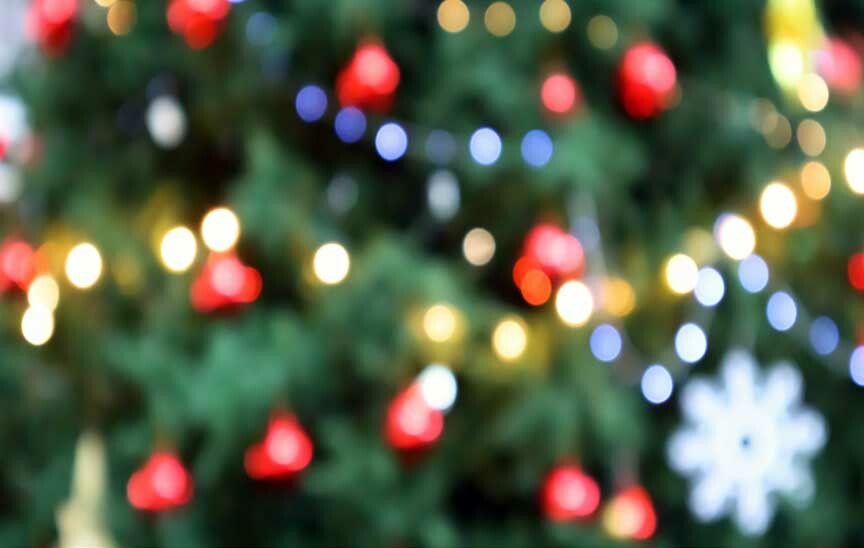 Believe it or not the holidays are almost upon us! Thanksgiving is already less than a month away with Eureka Springs Christmas Parade of Lights right behind. Read on to learn more about how we celebrate the holiday season in our little corner of the Ozarks!
The fun never stops in Eureka Springs, spring or fall, night or day. This is particularly true during the holiday season. Every week, from Thanksgiving to New Years Eve, features at least one – if not many – holiday dinner, tour, concert, or other event to attend. The whole town gets into the spirit with festive lights, creative decorations, and lots of holiday sales.
This town loves parades and one the biggest of the year is the annual Eureka Springs Christmas Parade of Lights. A big reason for this particular parade's popularity resides in the fact that it is held at night.
Why a night parade?
Why, the better to see the thousands of lights that make up the floats, bespeckle the walkers, and suffuse the bands in their warming glow. This annual parade truly is a unique and magical spectacle that must be seen to be believed. It's not all our Eureka Springs holiday has in store for you, though!
2019 Eureka Springs Holiday Events
Drive-Through Christmas Light Display – November 28th to January 1st, dusk to 8pm
Drive through a forest of almost 300 Christmas trees to reach the amazing, annual drive-through Christmas light display at The Great Passion Play. Open Thursdays through Sundays, entry is by donation. Learn more at www.greatpassionplay.org.
The Eureka Springs Christmas Parade of Lights – December 6th, 6pm to 7pm
The annual Eureka Springs Christmas Parade of Lights night parade sees floats, walkers, and bands illuminated by thousands of twinkling lights. This year's theme is "A Gingerbread Christmas." Don't miss it!
40th annual Eureka Springs Candlelight Tour of Homes – December 7th, 3pm to 8pm
Visit some of Eureka Springs' most elegant historic homes lavishly decorated for the season during the annual, self-guided Candlelight Tour of Homes. This event includes, carolers, Christmas bands, refreshments, and docents and period players in Victorian attire. Visit www.eurekaspringspreservationsociety.org for tickets and further details.
Night of 1000 Santas – December 14th, 5pm to 10pm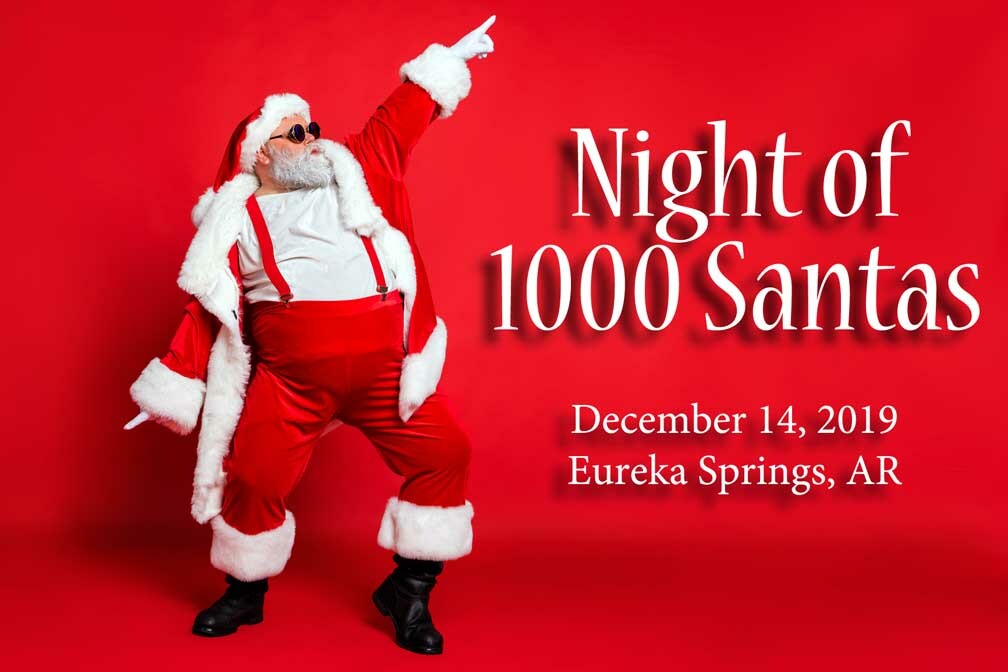 December 14th, 2019 is a busy one for holiday fun in Eureka Springs! Night of 1000 Santas sees a crowd of Santa-bedecked merrymakers enjoying an evening of holiday revelry. Join in with your own Santa suit or just enjoy their jolly antics! The evening also includes: free caroling in Basin Spring Park, Living Windows Art Exhibit, Scavenger Hunt, and drink and dinner specials.
Holiday Concerts
John Two Hawks Holiday Concert – December 7th, 7pm to 8pm
The 17th annual, John Two-Hawks Holiday Concert at The Aud will feature the Bentonville Washington Jr. High Girls' Choir and special guest Catherine Reed. John Two Hawks is a Native American musician, author, orator, and activist and ticket sales will benefit a local charity. Visit www.johntwohawks.com for tickets and more information.
Ozarks Chorale Holiday Concert – December 14th, 7:30pm to 9pm
The evening of the 14th also sees the annual Ozarks Chorale holiday concert at The Auditorium. This Northwest Arkansas family tradition is a must-see evening of music and celebration. Learn more at theozarkschorale.org.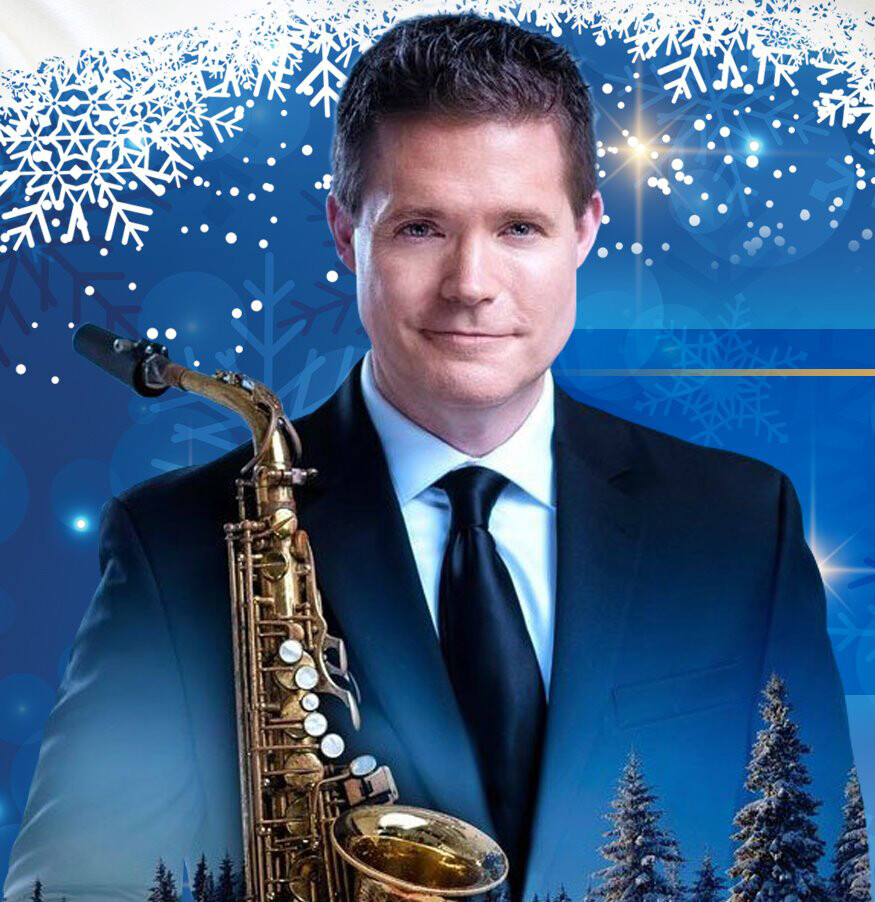 Home for the Holidays Concert – December 20th, 7pm to 10pm
Hear the talent of the region during this annual holiday concert of Eureka Springs singers and groups at The Auditorium. This event is free but please consider bringing a donation for the Flint Street Food Bank. Follow this event on Facebook.
Grady Nichols Falling in Love with Christmas – December 21st, 7pm to 9pm
Enjoy a fun, free evening of smooth jazz with saxophonist Grady Nichols at the Eureka Springs Auditorium. More information can be found at theaud.org.
Eureka Springs Lodging
No matter when or why you come to Eureka Springs, 5 Ojo would love to be your home away from home. Our Eureka Springs bed and breakfast offers true Ozarks hospitality. This includes lush accommodations, fabulous gourmet breakfasts, and an insider's knowledge of the area. Plus we're just a short stroll from all the fun and excitement downtown. Book your stay at 5 Ojo today!