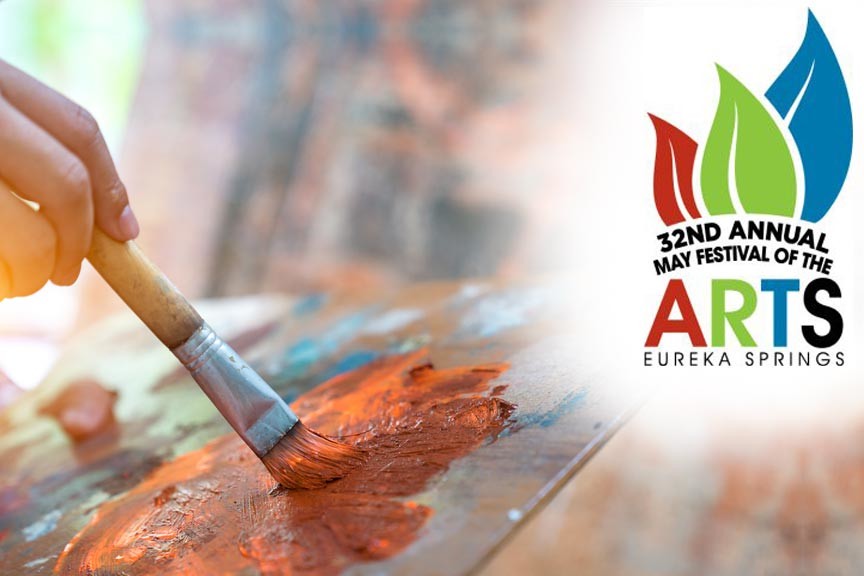 Eureka Springs Festival of the Arts 2019, also known as MayFest, is a month long celebration of all the arts. From sculpture to song, paint, juggling, dance, and so very more!
The 2019 Eureka Springs May Festival of the Arts continues a 32 year-long tradition of celebrating creative expression here in the Ozarks. The annual event includes one-of-a-kind art exhibits, demonstrations, parades, performances, and street parties.
Eureka Springs Festival of the Arts Highlights
May 2 – Celebrate Art! – New Work by Barbara Kennedy
An artist's reception, 4pm to 7pm at the Cottage Inn, celebrating new artwork by Barbara Kennedy.
May 3 – Steve Earle & The Dukes with opening act – Junior Brown
Come see legendary singer-songwriter and three-time Grammy Award winner Steve Earle, backed by his longtime band The Dukes. The opening act is innovative country/rock musician Junior Brown. 8pm at The Auditorium
May 4 – ArtRageous Parade
The colorful and quirky annual ArtRageous Parade kicks-off of the May Festival of the Arts with an array of floats, dancers, musicians, jugglers, and more. 2pm, downtown Eureka Springs
The Mattson 2
Free Jazz Concert at 5pm in Basin Spring Park.
May 11 – Second Saturday Gallery Stroll
Galleries around town open their doors from 6pm to 9pm with special showings and artist's receptions with complimentary wine and hors d'oeuvres.
May 12 – John Two-Hawks Mother's Day Concert
A special show to honor all women and mothers, 2pm at The Auditorium.
May 17 – White Street Walk
4pm to 10pm on Eureka Springs' White Street
Historic White Street is the working address of several local artists. Come join them and 40 guest artists for an evening of weaving, watercolors, jewelry, oils, pottery, stained glass, and much more in the artists' private spaces.
May 18 – Arthur Duncan Trio and Grady Nichols Free Jazz Concert
Arthur Duncan Trio plays for free in Basin Spring Park at 2:30pm, followed by Grady Nichols at 5:30pm.
May 19 – Books in Bloom Literary Festival
Books in Bloom is a free book reading and signing event. Authors in attendance include Chris Bohaljian, Wiley Cash, and "Pete the Cat" creator James Dean. 12pm at the Crescent Hotel.
May 25 – Drumming in the Park
Come join in the fun and make some noise in Basin Spring Park from 5pm to 7pm.
Multi-Day Events
May 10 through May 12 – Northwest Arkansas Juggling Festival 2019
Join jugglers from all over the country for a fun-filled weekend of games, workshops, demonstrations, and shows. Learn to juggle or just enjoy the show. Eureka Springs Community Center.
May 14 through May 17 – Eureka Springs Chalk Art Street Festival
Watch chalk artists bring their work to life throughout the weekend on the streets of downtown Eureka Springs. Join in the fun through workshops and works of your own.
May 20 – May 25 – Eureka Springs Plein Air Festival
Painters set up all around town for this multi-day paint out in Eureka Springs and its environs. The event ends with a public art exhibition and sale of the works produced.
Eureka Springs May Festival of the Arts 2019
MayFest 2019 is all this and so much more. Follow the event online at the festival website and Facebook.
Eureka Springs Lodging
5 Ojo would love to be your home away from home during the Eureka Springs Festival of the Arts. Our historic, Eureka Springs B&B offers 9 guest rooms and suites all within easy reach of downtown. Reserve your room at 5 Ojo today!