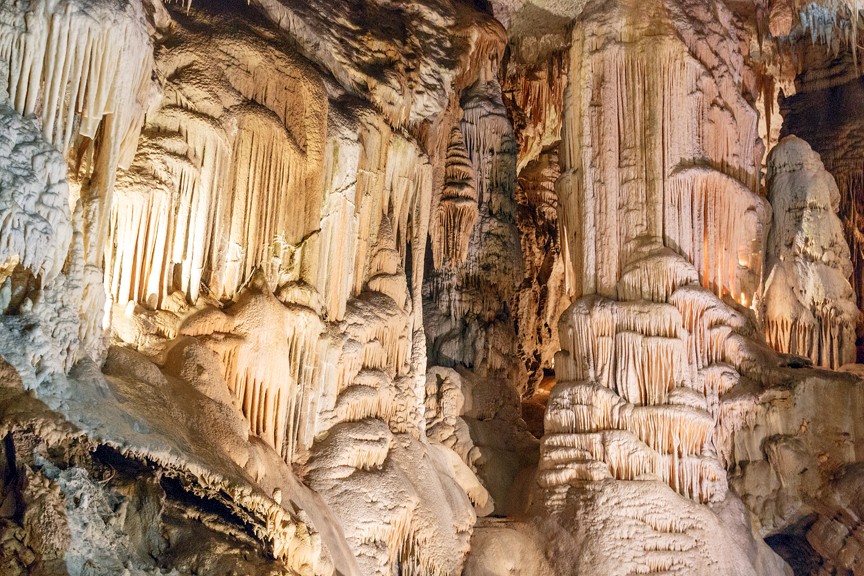 Arkansas' unique geology has it riddled with fascinating and historic caves and caverns. In fact, there are three caves within 30 minutes or less of our Eureka Springs B&B: War Eagle Cavern, Cosmic Cavern, and Onyx Cave!
Arkansas' many caves and caverns were formed when ancient sea beds solidified into limestone and calcite. These deposits were then shaped over the millennia by the constant drip and flow of water. The caverns and their delicate stalactites, stalagmites, and other ormations are the result of this process. Some caves, known as "living caves," are still wet and in the process of being formed.
The great number of caves open to the public makes Arkansas a caver's destination. Eureka Springs feels particularly lucky to have three such wonderful examples so close by.
Onyx Cave
338 Onyx Cave Lane, Eureka Springs, AR 72632
Onyx Cave is very nearby, just six miles East of downtown Eureka Springs. Onyx Cave is the oldest, professionally shown cave in Arkansas. It has been an attraction to the Eureka Springs area since 1893!
Onyx Cave is so named because of the flowstone found within it. Flowstone is also known as "cave onyx" but is actually composed of limestone. Many caves with flowstone, discovered during the 19th and early 20th centuries, were so named. Onyx Cave is known for having been used in the 1969 B-Movie thriller: 'It's Alive.'
Visitors to Onyx Cave may take a headset-guided tour of the cave to see its many chambers and formations. Onyx Cave is open year 'round but with varying hours, some of which are weather dependent. Learn more at the Onyx Cave website.
Cosmic Cavern
6386 Highway 21 North, Berryville, AR 72616
Cosmic Cavern is one of America's most popular caves. This stunning underground world of limestone has been used by humans off and on since prehistoric times. That may be due to its temperature. Cosmic Cavern's high humidity and constant 62 degrees have it considered to be the warmest cave in the Ozarks.
Guided tours of Cosmic Cavern will show you a bizarre world of unique limestone formations: flowstones, sodastraws, helictites, cave bacon, and more. You'll also see underground lakes and streams peopled by blind cave trout. Cosmic Cave is also home to rare and elusive, blind cave salamanders.
Beyond the normal guided tours, Cosmic Cave also offers Wild Cave Tours where you can explore rarely seen sections of the cave. Cosmic Cave is located half-way between Eureka Springs and Branson, Missouri. Learn more at the Cosmic Cavern website.
War Eagle Cavern
21494 Cavern Drive, Rogers, AR 72756
War Eagle Cavern is located on Beaver Lake, one-half mile off Highway 12, midway between Eureka Springs and Rogers. The cave is the largest cavern in Northwest Arkansas. It contains three stories of caverns and a vast array of unusual formations and features, including domes, rimstone dams, and waterfalls.
War Eagle Cavern opened to the public in 1978 but has been occupied by humans and other creatures for as long as we've been around. This is mainly due to the underground, fresh water spring that flows through the cave. Bats still make a home here, with a healthy colony that numbers into the tens of thousands!
Visitors to War Eagle Cavern can enjoy a 60 minute guided tour or reserve their place on an exciting spelunking tour! Other attractions include gem panning, a maze, gift shop, boat dock, and nature walks. Plus, the natural entrance tot he cave is right on the shores of Beaver Lake.
Visit War Eagle Cavern online for hours and more information.
Eureka Springs Lodging
There is always something fun and amazing to do and see in Eureka Springs, AR – but you'll need to stop and rest sometime! Book your stay in one of 5 Ojo Inn's many suites or cottages for the best in home-away-from-home Eureka Springs lodging.