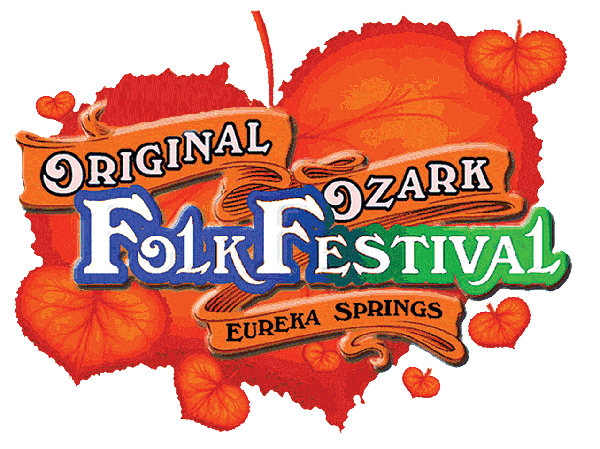 Attend the 70th Original Ozark Folk Festival – the country's longest running Folk Festival. November 2nd through the 4th, 2017 in Eureka Springs, AR. This year's events feature headliner Lucinda Williams!
If you're a fan of real Ozark mountain music, it doesn't get much more real than this. The Eureka Springs Ozark Folk Festival has featured real Ozark locals, playing traditional folk music, since 1948.
The annual festival is more than simple, seasonal entertainment. It helps to keep the traditional music of the Ozarks alive for new ears, new musicians, and the budding of new folk traditions. Many of the musicians come to the festival with homemade instruments, either heirlooms or their own work. In fact, a good part of the festival's attraction, after the music, of course, are all the artisans selling genuine, Ozark folk masterpieces.
Ozark Folk Festival 2017 is held in and around Eureka Springs with concentrations at Basin Spring Park and the Eureka Springs City Auditorium. Basin Spring Park is the site of free concerts throughout the festival, as well as impromptu jam sessions. The Eureka Springs City Auditorium, on the other hand, hosts the festival headliners and bigger events.
This year's headliner, Lucinda Williams, is a gifted songwriter and three-time Grammy Award winner with a strong and distinctive voice. Working in a variety of genres, including rock, country, blues, and folk, Lucinda is known for her fearlessly personal song book. Bigger hits include, "Car Wheels On A Gravel Road," "World Without Tears," and "Drunken Angel,' to name but a few.
Other Original Ozark Folk Festival attractions include the Queen's Contest, the Barefoot Ball, a Singer/Songwriter Contest, and the Folk Festival Parade. Square dancing, clogging, and events like the Barefoot Ball are a big part of the festival. You wont want to miss the parade with Original Ozark Folk Festival royalty, either.
While the festival has yet to release a full schedule, a few dates and performers have been posted.
2017 Original Ozark Folk Festival Schedule
Thu, Nov 2, 6:30pm – Hedgehoppers in The Auditorium
Fri Nov 3, 7:30pm to 9:30pm – Lucinda Williams in The Auditorium
Fri Nov 3, 10pm – Barefoot Ball in Basin Park Hotel Ballroom
Sat Nov 4, 1pm to 5pm – Basin Spring Park Free Concert
Original Ozark Folk Festival 2017
November 2 – November 4
Eureka Springs, AR
Be sure to visit www.ozarkfolkfestival.com for updates and tickets.
Original Ozark Folk Festival Lodging
As of this writing, 5 Ojo Inn Bed & Breakfast still has a few rooms available for the 2017 Original Ozark Folk Festival, but that won't last long! Don't settle for less, get the best accommodations in town at our Eureka Springs B&B. Reserve your room at 5 Ojo Inn Bed & Breakfast, today!