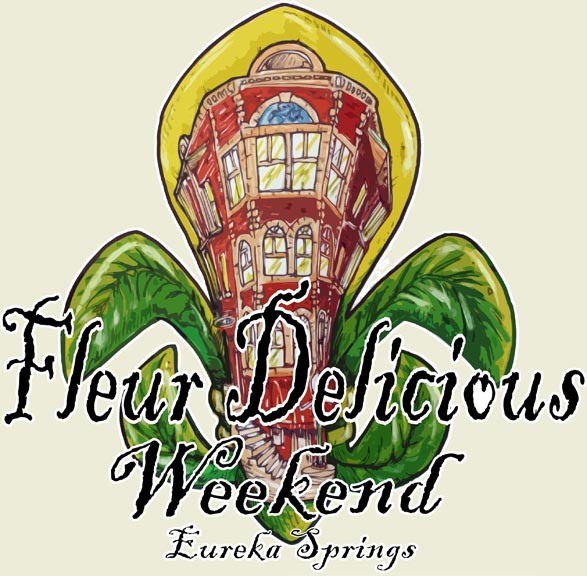 Eureka Springs is at it again with the 5th annual Fleur Delicious Weekend, a French-themed celebration of all five senses with a street fair atmosphere that you do not want to miss! July 7th-12th 2015.
Sight, sound, smell, touch and taste: these are the senses that give us our world and that have inspired Eureka Springs' Fleur Delicious Weekend event.
All around town, restaurants, bars, art galleries, boutiques, spas, and music venues will be presenting French-inspired, sense-stimulating indulgences with food and drink, arts, entertainments, contests, seminars, gallery walks, and much more:
Fleur Delicious Weekend Events
July 1st
Ciroc Vodka Bartender Competition
KJ's Caribe Restaurante y Cantina – 5pm
July 7
Guest Chefs' samplings and Railway Winery sips
Writer's Colony at Dairy Hollow – 5pm to 7pm
July 8
3 Course Fleur Delicious Weekend Wine Dinner
with optional wine flight pairings
Gaskins Cabin Steakhouse – 5pm to 9pm
July 8 through July 10
French inspired Fleur Delicious Weekend entrées
with optional wine flight pairings
Le Stick Nouveau – Beginning at 5pm
July 8 through July 12
French Wines by Louis Jadot
and Fleur Delicious Weekend menu specials
Rogue's Manor – 5pm to 9pm
July 9
Cooking Demos with Chef Dustin of FRESH, Chef Jeff of The Grand Taverne and KJ of Caribe Restaurante y Cantina
Eureka Springs Farmers Market – 7am to Noon
July 9 through July 11
French themed dinner
featuring Eureka Springs Farmers' Market produce paired with Railway Winery wines
KJ's Caribe Restaurante y Cantina – 5pm to 9pm
Fleur Delicious Weekend Menu specials, French Wine Flights and Fleur Delicious Weekend CIROC martinis
DeVito's of Eureka Springs – 5pm to 9pm
July 10
ESSA presents Palette to Palate
Paint and Party with Barbara Robinson
Keels Creek Winery – 6pm
July 10 & 11
Menu specials and optional wine pairings
The Grand Taverne – 5pm to 9pm
July 11
Cooking demo
with Chef Dave Gilderson of Rogue's Manor
White St. Farmers Market – 8am to 11:30am
Fresh Harvest presents Samples and Signings
with Cookbook Authors Sheila Reese, Casey Sams and Kim Duhamel
Pine Mountain Village – 10am to 5pm
Farm to Table
seafood boil, po boys, étouffée, and a house infused jalapeño pepper CIROC Vodka Bloody Mary bar
Fresh – 11am to 5pm
Spring Street Waiter's Race
Spring Street – 3pm
The Grand Bubbly Discovery Champagne Tasting
The Grand Taverne – 4pm
Ultra Suede Dance Party
Basin Spring Park – 5pm
6 Course Fleur Delicious Weekend Tasting Menu
with a truffle main course and a corresponding optional wine flight
Le Stick Nouveau – Beginning at 5pm
Eureka Springs Gallery Association Gallery Stroll
Participating galleries around town – 6pm to 9pm
July 12
Sunday Brunch with French Champagne
and all of the classic brunch offerings
The Crystal Ballroom at The Crescent Hotel – 9:30am to 2pm
Fleur Delicious Weekend Sunday Brunch
with Shrimp & Crab Gumbo, Bloody Mary bar and French 75's
Le Stick Nouveau – 11am to 4pm
5 Course French Wine Dinner
Cottage Inn Restaurant – 7pm

Eureka Springs Fleur Delicious Weekend 2015
A Celebration of the Senses – July 7th through the 12th
www.fleurdeliciousweekend.com
Eureka Springs Fleur Delicious Weekend Lodging
5 Ojo Inn Bed & Breakfast has 9 rooms between two historic homes and two cottages in the historic district of Eureka Springs and every guest enjoys an elegant, three-course breakfast each morning. Let us be your home away from home during your Eureka Springs getaway – you'll be so very glad you did!