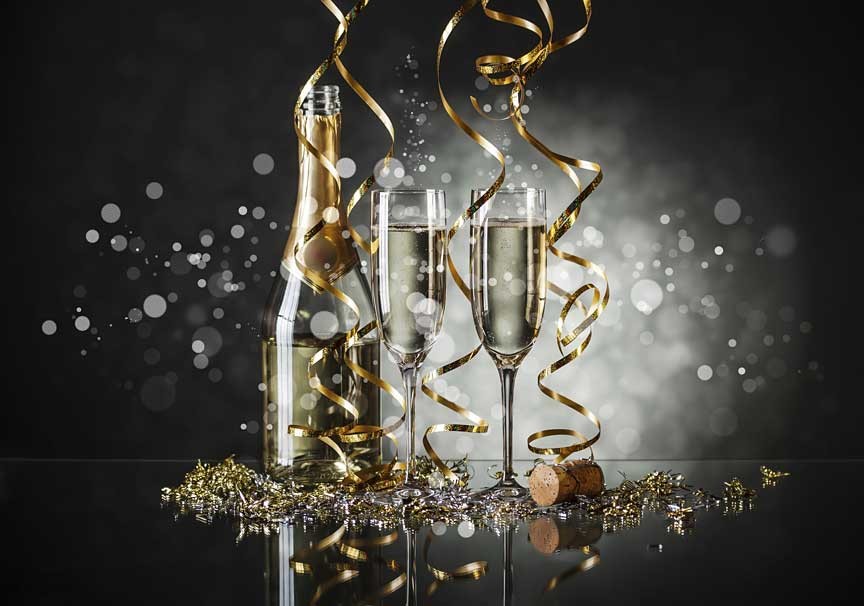 Why have a Eureka Springs New Year's Eve? Eureka Springs, AR is a happening place all year long with festivals, events, concerts, and more – so why should New Year's be any different? It's not!
It wouldn't be Eureka Springs if there wasn't something happening or brewing for the near future and, this year, the Eureka Springs New Year's Eve boasts two different events: the New Years Eve Ballroom Blitz at the Basin Park Hotel and Swing in the New Year at the Crescent Hotel and Spa!
The New Years Eve Ballroom Blitz is the annual return of a very popular Eureka Springs New Year's Eve celebration. This gala event begins at 8pm and includes the live music of Arkansas' own party band Red Ambition! A non stop, top floor party, the New Years Eve Ballroom Blitz is held upstairs in the Basin Park Hotel's Barefoot Ballroom and will include party favors, snacks, and a midnight countdown with champagne! Great fun.
Tickets are only $25 and can be purchased online.
Swing in the New Year bills itself as "Classy, Upscale, Decadent, & Sexy." Held at the Crescent Hotel & Spa, this new celebration hopes to become an annual event, featuring the classy elegance of an old-school, 1940′s era supper club with the excitement and celebration of New Year's Eve. Live music and dance by Swing and a Miss and MelonLight Studios begins at 9pm with a champagne toast at the stroke of midnight. The party gets started at 8pm with seatings every quarter hour for the four-course meal, which includes:
1st Course – choice of either Soup or Salad
Fresh Garden Salad or a Classic Caesar Salad
Creamy Lobster Bisque or French Onion Soup
2nd Course – choice of Appetizer
Pesto-stuffed Button Mushrooms with Mozzarella
Crab Lorenzo in a spiced cream sauce over toast points.
3rd Course – choice of Entrée
Prosciutto Wrapped Sea Scallops with Tangerine Sauce Jumbo sea scallops wrapped in shaved prosciutto and drizzled with a sweet tangerine sauce. Served with sweet potato hash and sautéed asparagus.
Grilled Rib Eye with a Coffee Caramel Glaze – A 14 oz. cut of Rib Eye grilled to your liking and lightly accented with a coffee caramel glaze. Served with red skin mashed potatoes and steamed broccolini.
Classic Chicken Picatta – Pan seared chicken breast, paired with a white wine butter sauce featuring capers and slices of fresh lemon. Served with roasted fingerling potatoes and roasted julienne carrots.
4th Course: choice of Dessert
Tiramisu served with a coffee liqueur mousse
Chocolate Lava Cake served with whipped cream and fresh strawberries
Attendees of Swing in the New Year have the option of buying tickets for dinner and dance or just the dance alone.
Eureka Springs New Year's Eve Lodging
If you're looking for a place to stay and are wanting to make your own, special Eureka Springs New Year's Eve, 5 Ojo Inn Bed & Breakfast can help there, too! You can create your own special here at our Eureka Springs bed and breakfast inn! Give us a call at 800-656-6734 or email us to let us know what you're after – we'll happily do whatever we can to make your Eureka Springs New Year's Eve getaway the very best it can possibly be – and Happy New Year!