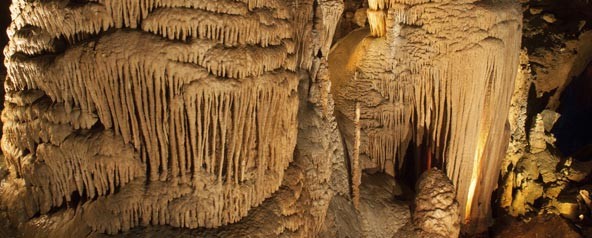 Just a hop skip and a jump away from Eureka Springs (or approximately twenty minutes, if you want to split hairs) is Cosmic Cavern, one of the top ten show-caves in the US.
Why is Cosmic Cavern one of the top ten show-caves in the US? A lot of reasons.
First, it's warm – so warm, in fact, that Cosmic Cavern is advertised as "the warmest cave in the Ozarks": 64 degrees, which at 96% humidity feels a heck of a lot warmer than it is. Visitors will want to dress accordingly, avoiding any heavy layers of clothing during the 1 hour, 15 minute tour.
Then there's the contents of Cosmic Cavern. Inside you will discover not one but *two* (count 'em!) bottomless lakes – so named not so much because the lack of a bottom has been verified but rather the opposite: no bottom has *ever* been detected! One of the lakes is home to some pale, blind cave trout: the offspring of normal trout who were brought here some 50 years ago and have since adapted to their environment.
Other animals that can be found inside are the rare and threatened Ozark Blind Cave Salamander and bats who, 70 years after being foolishly chased from the cave by ill-educated miners, are finally returning.
And formations! Limestone shaped into stalactites, stalagmites, flowstones, sodastraws, helictites, cave bacon, draperies, and many others will fascinate and delight you as you make your way along the safe and easy walkways of Cosmic Cavern. Notable among these are the collection of the "operating table," with formations resembling a human liver, brain, feet, and tongue. Yikes!
One newly discovered area, a room called "Silent Splendor," contains a nine foot long, soda straw formation – one of the longest around – you've got to see it to believe it.
Along with the regular tour, visitors 14 years of age and older have the opportunity to take the "Wild Cave Tour" – a visit to undeveloped regions of the Cosmic Cavern. Youngsters, on the other hand (or you, too buddy), can pan for rough gemstones in an authentic sluice – great fun, and you get to keep what you find!
Cosmic Cavern
6386 Hwy. 21 N
Berryville, AR 72616
For more details, please visit: cosmiccavern.com
5 Ojo Inn
We may not have limestone formations or blind cave trout but we do have 9 guest rooms located in 2 historic homes, complete with fabulous gourmet breakfasts and complimentary extras, all of which demonstrate the charm and exemplary Ozark hospitality you can always expect when you stay with us.