We had the opportunity recently to try out Ozark Mountain Ziplines, one of the newest and definitely exhilarating attractions in Eureka Springs.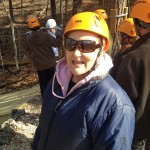 Picture yourself high up in the tops of the trees gliding along like a bird in flight. In this case the bird, you, is bound in a harness hooked safely on to a large wire, but if you can get over the fact you are 200+ feet above ground, it's an experience you'll want to try again and again. Of course, you'll have to ask Jan about that because I was planted firmly on the ground taking pictures.
Ozark Mountain Ziplines offers 2-hour tours every day except Wednesdays with tours starting each day at 8:00am.
With spring time here and all the trees filling out with leaves, now would be a great time to zip on down to Eureka Springs. The Zipline office and pickup point is just down the street from our bed and breakfast.
There are 10 zip lines, ranging from 120 to 1800 feet in length with suspended tree platforms and a suspended sky bridge. You'll start on a few shorter lines to get you used to the sport, and then you move on to higher and longer distances.
Here's a YouTube video of Jan getting the hang of things.
We hope to see you soon at 5 Ojo Inn Bed and Breakfast in Eureka Springs, Arkansas.