Turpentine Wildlife Refuge is a home for large exotic cats. It is a fun, exciting place with a big heart! If you are an animal lover, make sure you add Turpentine Wildlife Refuge to your must-see list while visiting the Eureka Springs area. Turpentine is only seven miles outside of town, maybe a 10 minute drive. They have some magnificent animals there.
The Wildlife Refuge is open every day except Christmas. An an all-day pass is $15.00 for adults, $10.00 for Veterans, Senior Citizens and Children (ages 3-12), with children under three admitted free. Lions, tigers, cougars, even ligers, are in the main compound area where you can get as close as five feet away from these magnificent creatures. Each animal has its story and personal history described on a plaque on the front of its cage for a self-guided tour. Take as long as you want!
We like to tour when it's getting warmer out and watch one of the bears playing in a large tub of water with one of his "toys". He splashes, rolls and climbs in and out of the tub having a great time. We almost feel like he is performing for the crowds.
The self-guided area is open from 9 a.m. – 6 p.m. in the summer months. Guided tours run every hour on the hour from 11 a.m. – 3 p.m. with feeding time at 4 p.m. in the winter months and 5 p.m. in the summer months. Learn more about the tours offered at the Refuge on their website.
Eureka Springs Kite Festival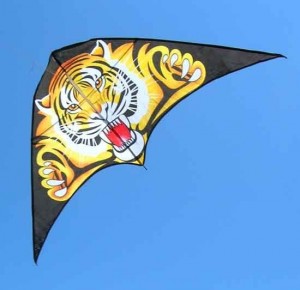 Turpentine Creek Wildlife Refuge will host the 23rd annual Kite Festival celebration March 23. Bring your own kite or buy one at the refuge. The celebration includes vendors, contests and activities for the whole family. A performance by local band The Skillet Lickers takes place from 1 to 4 p.m. Admission is free for kite flying; regular admission prices apply to tour refuge wildlife on display.
KaleidoKites' experts will assist children in kite making and flying techniques. Donations to the refuge requested for kite making assistance – please, be generous! KaleidoKites will donate a Japanese "Rokkaku" fighting kite and a tiger kite for an on-site raffle, proceeds benefiting Turpentine Creek.
"Making and flying kites is a 'green' sport' families can share. It's wind-fueled and gets kids away from sedentary activities like TV viewing and video games," said Steve Rogers, KaleidoKites co-owner. "It's a great photo-opportunity with world-class kites worth over a thousand dollars flown during the event. These kites are works of art, which is only fitting for an artist's community like Eureka Springs," added Rogers.
The event is one of the refuge's most popular events each year and is also an important fundraiser. Proceeds finance the rescue and ongoing care for over 120 large cats and other wildlife that make the sanctuary a their life-long home.
See one of the Turpentine Refuge video podcasts below:
http://youtu.be/o7xpkUC4fDY