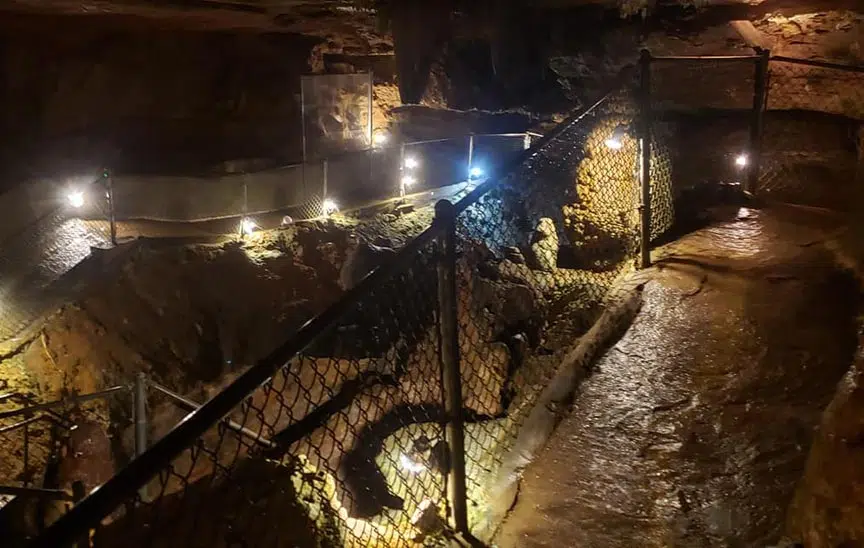 Whether you're a dedicated subterranean or just looking for something fun and unique to do, you can't go wrong with a visit to Eureka Springs' Onyx Cave.
Fans of caves, history, and geology will enjoy touring Onyx Cave, Arkansas oldest show cave. The attraction opened to the public in 1893 and has been fascinating visitors ever since.
The cave's name comes from all the strange and wonderful flowstone formations found inside. Flowstone, once known as "cave onyx," is created when calcium carbonate rich water flows along the walls or floor of a cave. The water slowly deposits layers of calcite, creating smooth, glossy looking formations that can take many shapes.
Because of its considerable age as a public attraction, Onyx Cave does display some unfortunate wear. In the early days, visitors didn't think twice about reaching out to snap off a souvenir. The cave was also used for a few scenes in "It's Alive," a 1969 science fiction, b-movie. In spite of this, the cave is still a fascinating and excellent diversion for the whole family.
Visiting Onyx Cave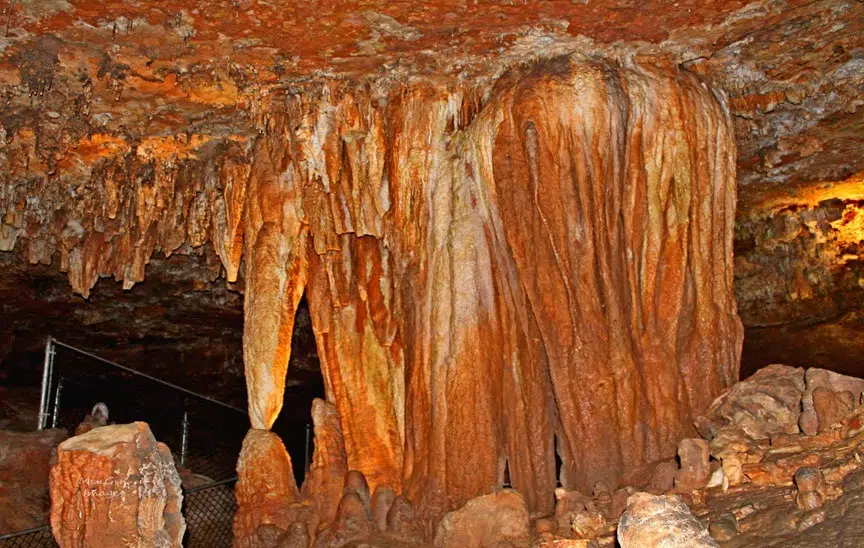 Onyx Cave Park is located at 338 Onyx Cave Lane in Eureka Springs, just 15 minutes from 5 Ojo. The Aviation Cadet Museum is just 3 minutes from the cave and another popular area attraction.
Visitors can enjoy a self-guided, 30 minute audio tour, which takes you throughout the cave. Cave paths are smooth, level, and well maintained, with steps and handrails where necessary. You'll see stalactites, stalagmites, and lots of flowstone in chambers with names like the Witches Fireplace and the Friendly Dragon. Your audio guide not only points out cave features, it also details the cave's history, geology, and wildlife.
That's right, Onyx Cave is home to wildlife. Bats, salamanders, and other fascinating creatures you may be lucky enough to see!
Visitors may also wish to bring and extra layer of clothing along. Onyx Cave's average temperature stays around 57° F (13.8° C) all year 'round, no matter the weather outside.
Beyond the tour, visitors to the cave can also choose from a variety of other activities. You can pan for semi-precious gems, throw an axe, smash something in the smash room, and peruse the offerings in the gift shop. They even have snow cones, the perfect treat on a hot day. Yum!
Visit Onyx Cave on Facebook for hours and up-to-date information.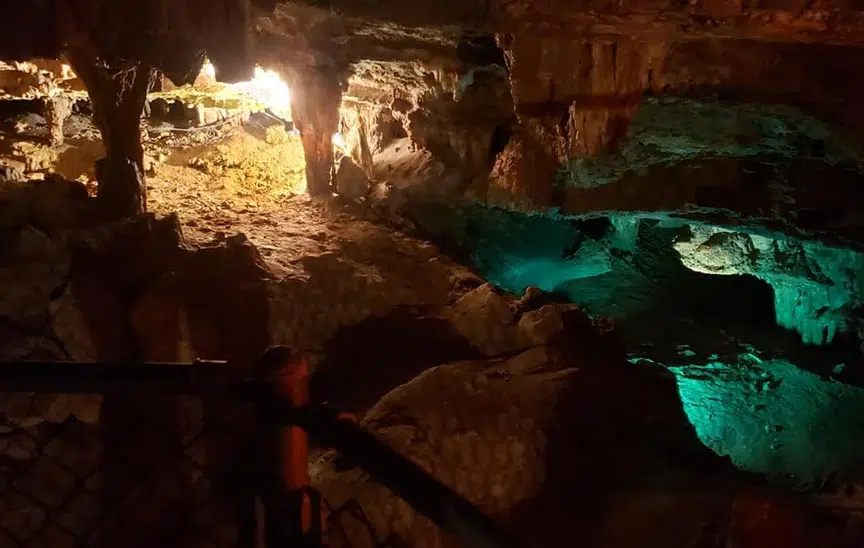 Not Just One
Arkansas is riddled with fascinating caves you can visit and tour, and some of the state's best are quite close by.
Cosmic Cavern, located at 6386 Highway 21 North, Berryville, AR 72616, is one of the country's most popular caves and loaded with beautiful formations. It's also Arkansas' warmest cave, staying at a constant 62° F (16.7° C) all year 'round.
War Eagle Cavern, located at (21494 Cavern Drive, Rogers, AR 72756), is Northwest Arkansas' largest cavern, with three stories of caverns and many unusual formations.
Both of these intriguing natural attractions are within 30 minutes of our Eureka Springs bed and breakfast.
Spend your day out exploring the natural wonders of the Eureka Springs area, then head back to the supreme comfort of your accommodations and amenities at 5 Ojo. Who could ask for more?