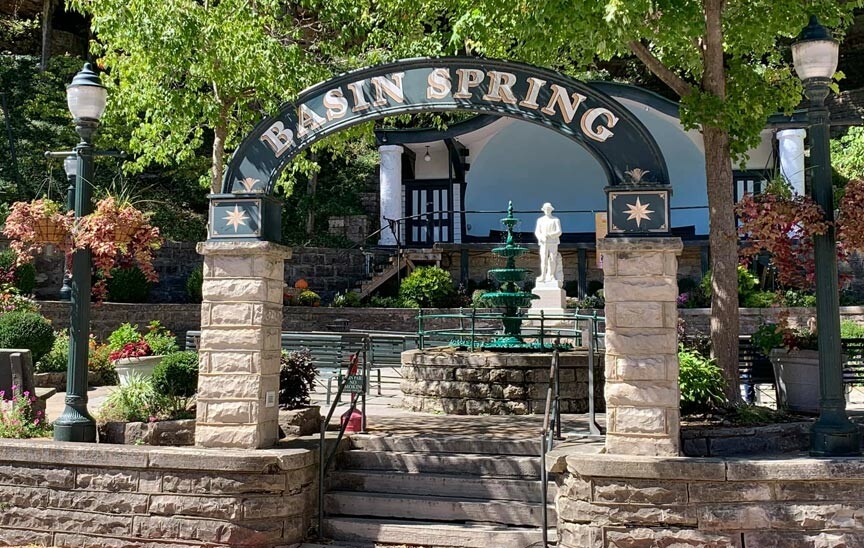 Eureka Springs is home to more than 60 springs, many of which played an important role in the city's history. Tour of Eureka Springs' natural springs to see some of the most beautiful and historic locations in the city.
Eureka Springs got its start in the late 1800's as a Victorian spa village. People came from all over the country for the purported healing powers of Eureka Springs' natural springs. In fact, before European settlers arrived, Native Americans did the same thing, and no wonder, with more than 60 natural springs to choose from.
Dozens of these original springs can still be found around town and the valley. You can still see many of the famous springs that put Eureka Springs on the map. Small signs mark the most famous ones, making them easier to find.
Best of all, 5 Ojo, our Eureka Springs bed and breakfast, is within easy distance of all the area's springs – plus anything else you want to do. Our convenient location on the trolley line is just a short stroll from downtown attractions. Let us know what you like to do and we'll get you pointed in the right direction!
Eureka Springs' Natural Springs
Basin Spring is probably the most famous spring in town. It's located in the heart of Eureka Springs, next to the historic Basin Park Hotel, and surrounded by Basin Spring Park, a great place to catch live music.
Crescent Spring, named for the crescent shaped rock outcropping behind it, is another famous, local spring. It can be found on Spring Street in a pocket park next to the Eureka Springs Carnegie Library. A Victorian gazebo and surrounded by beautiful landscaping covers the spring.
Grotto Spring is also on Spring Street, nestled in a small cavern, partially hidden by vegetation. An inscription, "Esto Perpetua" (let it be eternal), is over the spring entrance and a candle burns perpetually within.
Harding Spring is known for one of Eureka Springs' most miraculous healings, when its waters supposedly restored a blind woman's sight. A small park and garden surround the spring at the corner of Howell and Spring Street.
Sweet Spring is located at the bottom of the spiral stairway near the Post Office on Spring Street. This spring and its lovely pocket park are one of the most visually striking in town. A trail running along the bluff above Sweet Spring connects it to Harding Spring.
Califf Spring is unique in that it retains its historic, stone water purifier. These devices didn't work, so only a few still exist. Califf Spring, originally Table Rock Spring, is located next to the Eureka Springs Historical Museum.
Magnetic Spring, located off Magnetic Road, on the grounds of the Great Passion Play, is another popular spring. The spring waters were famed for being able to magnetize metal. Magnetic spring features a small park with a large pavilion and tables, making it a nice place for a picnic.
Blue Spring Heritage Center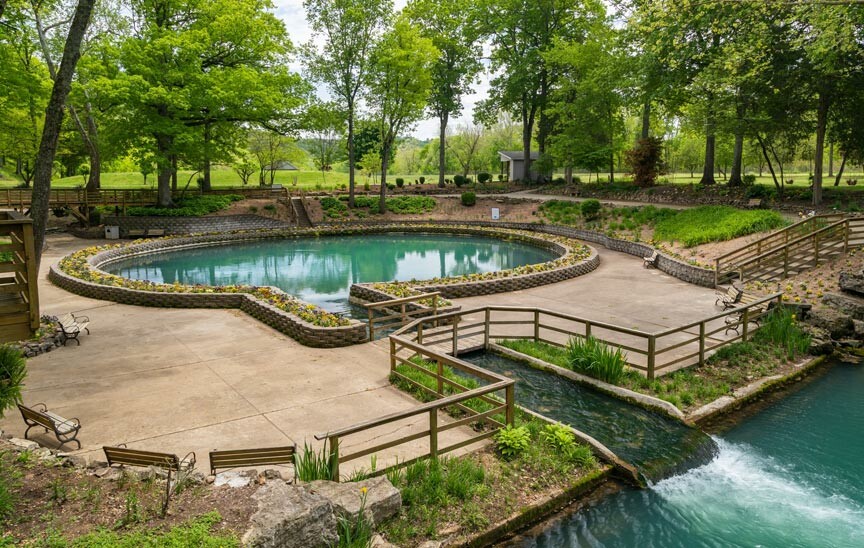 Blue Spring is Eureka Springs' largest spring, which produces 38 million gallons of water a day. The prodigious spring waters fill a deep pool surrounded by flowers, then spill over into a trout-filled lagoon.
Regional tribes were well aware of Blue Spring and considered it a sacred spot. The Osage used the overhang of a nearby stone bluff as a trading post. An archeological dig here in 1971 unearthed artifacts dating back to 8000 BCE.
Blue Spring is also home to the Blue Spring Heritage Center, with 33 acres of trails and gardens, and a Visitor's Center to explore. A large gazebo overlooking the lagoon is a perfect place to rest and even feed the trout, if you like.
No visit to Eureka Springs is complete without visiting at least one of our many springs. They're scenic, fascinating, historic, and one of the best free things to do during your visit.
Come explore Eureka Springs and top it off with a stay at 5 Ojo, Eureka Springs' only 4-star historic B&B!