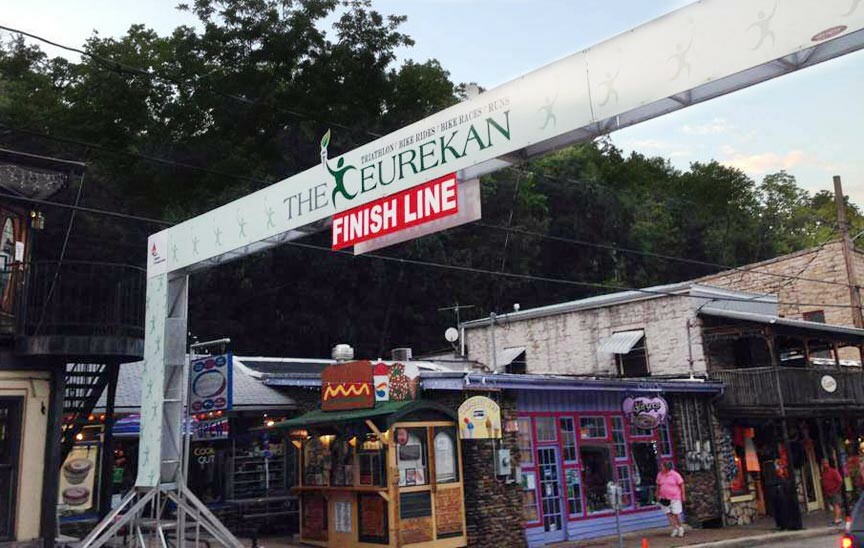 Get set for the 2021 Eurekan! Eureka Springs' annual, 3-day multisport festival is back after last year's unavoidable hiatus. This year's festival promises a triathlon, bike races, a 5k, a 10k, and more! July 23rd through the 25th, 2021 in Eureka Springs, AR.
Looking for a way to shake off all the dust and cobwebs from last year's social distancing and staycationing? How about participating in the 2021 Eurekan?
The annual festival offers a variety of physical challenges to choose from. Registered participants may enter any event they choose or go whole hog and attempt them all to achieve the Full Eurekan.
What's a Full Eurekan?
Well, first you accomplish the Triathlon (300 yard swim, 6.25 mile bike, 2 mile run), then add in the 100 mile bike race and the 10K. Too much? Maybe the Half Eurekan is a better fit. It also includes the full Triathlon but only adds the 62 mile bike race and 5K run.
Of course, it is also completely acceptable to participate vicariously from the sidelines. Someone has to cheer these athletes on, after all!
Whether you choose to attend as a participant or spectator, 5 Ojo would love to be your home base. Most festival events are held or at least conclude in downtown Eureka Springs, just minutes from our historic, Eureka Springs Bed and Breakfast, 5 Ojo.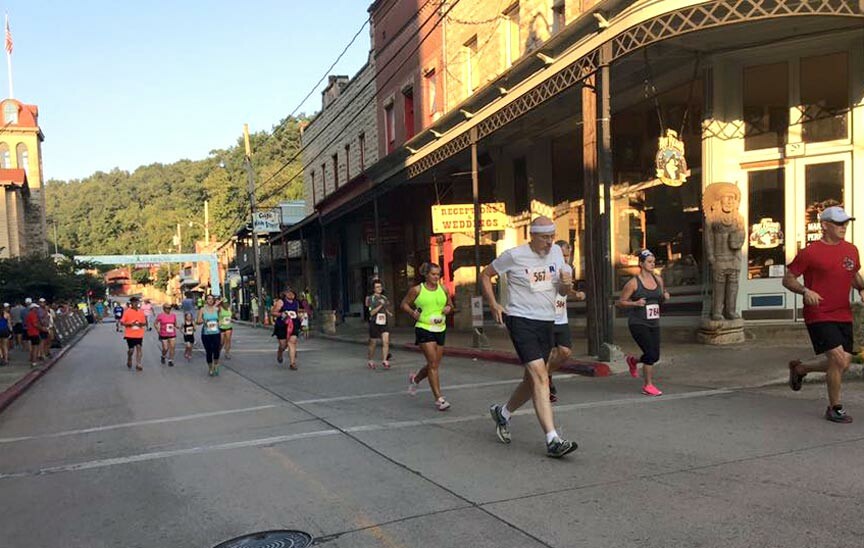 Triathlon events take place 15 minutes north of Eureka Springs at Holiday Island, AR near Table Rock Lake. In fact, the swim portion of the Triathlon is held in Table Rock Lake.
The event ends with an Awards Ceremony and Video and Picture Recap of this year's festival, which is always a lot of fun. All event participants who attend the ceremony receive door prizes.
2021 Eureka Springs Multisport Festival Schedule
Thursday, July 22nd
5pm to 8pm – Packet Pickup for all events at Best Western Inn of the Ozarks Convention Center
Friday, July 23rd
10am to 1pm – Packet Pickup at Holiday Island Recreation Center
11:30pm – Transition area opens
1:10pm – Mandatory Pre-race meeting at Transition with USAT Official
1:15pm – Prayer and National Anthem
1:30pm – Transition Area Closes
1:30pm – Men 39 and under
1:35pm – Men 40 and over
1:40pm – Women 39 and under
1:41pm – Women 40 and over
3:00pm – Awards Ceremony
Saturday, July 24th
5:30am to 7am Packet Pickup for bike events only
6:50am – Prayer and National Anthem
7:00am – 100 Mile Bike Race start
7:15am – 62 Mile Bike Race start
7:30am – 30 Mile Bike Race start
7:35am – 21 Mile Bike Race start
4:30 pm – Race Support Ends
Sunday, July 25th
6:00am to 7:15am – Packet Pickup inside the city auditorium next to courthouse
7:30am – 5K Run
7:45am – 10K Run
10:30am – Video and Picture Recap of the weekend
11:00am – Awards for "The Full Eurekan"
2021 Eurekan – Eureka Springs Multisport Festival
July 23rd through the 25th, 2021 in downtown Eureka Springs, AR
Visit the festival website for more information. You can also follow the event on Facebook.