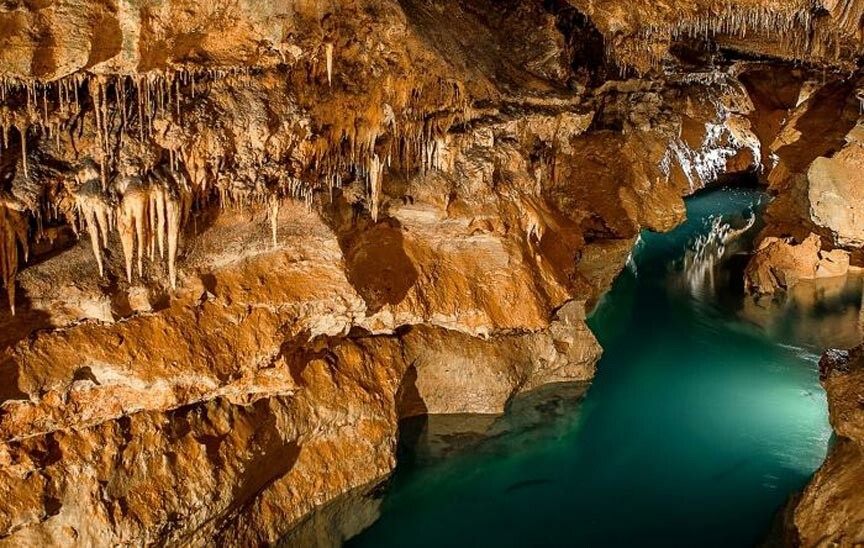 Arkansas is home to some of the best caves in the country and many are within easy reach of Eureka Springs. Cosmic Cavern is a great example, with interesting rock formations, two underground lakes, wild cave tours, and all less than 30 minutes away from 5 Ojo.
Cosmic Cavern is Arkansas's largest privately owned show cave. The cave was discovered in 1845 but wasn't developed as a show cave until 1927. As with virtually all Arkansas caves, Cosmic Cavern is a "living" karst cave.
Karst caves are created by natural erosion over thousands of years. Flowing water slowly eats away softer rock, like limestone, from harder, surrounding stone to leave an empty pocket. A "living" cave is one that is still forming through this process of flowing water and deposited minerals.
Cosmic Cavern is considered one of the top Show Caves in the United States and their cave tours are very popular.
Guided and Wild Cave Tours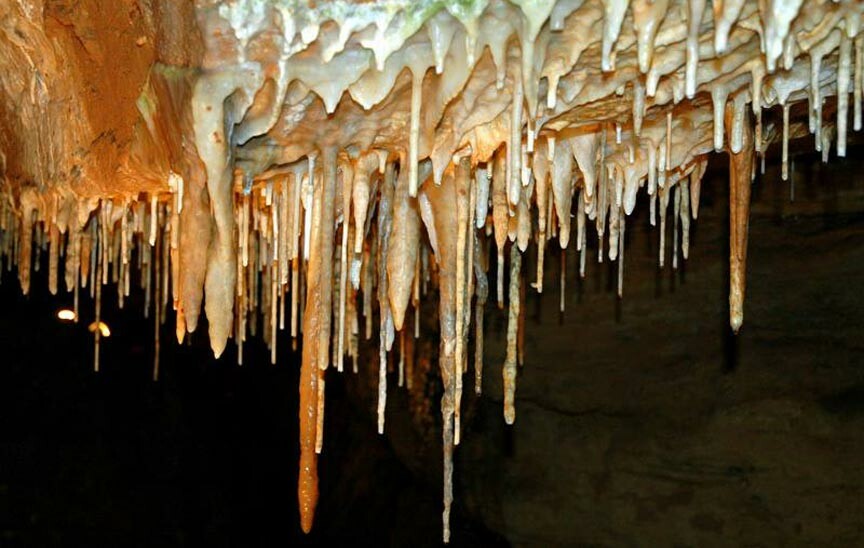 Cosmic Cavern's guided cave tours last 1 hour and 15 minutes and cover around 1/3 of a mile. While there are a few sets of stairs, most of the tour occurs on level ground.
Though you'll be underground, Cosmic Cavern is quite warm, holding at a steady 64 degrees Fahrenheit, no matter the time of day or year. In fact, it's the warmest cave in the Ozarks!
The cave is well lit so you can get a good look at the strange and wonderful world around you. Sights include a wide variety of bizarre and beautiful cave formations, known as speleothems. While some of these formations look like little more than melted wax, others take on fantastic shapes: stalactites, stalagmites, flowstone, helictite, cave bacon, draperies, and more.
Cosmic Cavern is also home to two "bottomless" cave lakes, complete with blind cave trout. One of the lakes was discovered as recently as 1993, making national news. This recently discovered section of the cave is so pristine that many of its delicate formations are transparent.
Lucky visitors may also see another rare, cavern denizen: the Ozark blind cave salamander.
The truly adventurous may also wish to go on a Wild Cave Tour. These special tours, offered after normal cave hours, will take you to deeper, undeveloped parts of the cave rarely visited by tourists. Exciting!
Visiting Cosmic Cavern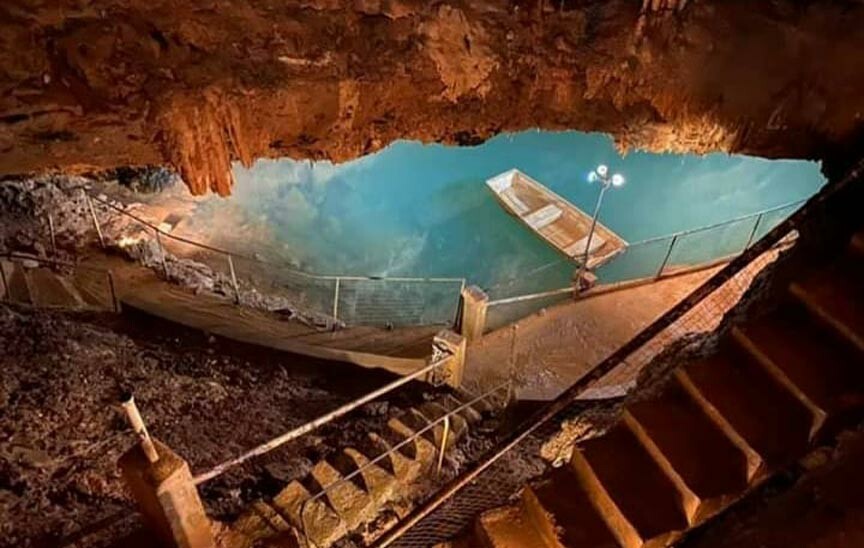 Cosmic Cavern is located at 6386 Highway 21 North, in Berryville, AR. After you've toured the cave, be sure to peruse the offerings at the cavern's Visitor Center and Gift Shop. Kids will love the gem panning – maybe you will, too!
Cosmic Cavern is open from 9am to 5pm, 7 days a week. Visit the cavern website for more information. You can also find the cavern on Facebook.
As I say above, our Eureka Springs bed and breakfast, 5 Ojo, is less than a half hour's drive from Cosmic Cavern. As a matter of fact, you've a number of popular show caves within easy reach when you stay at 5 Ojo.
Onyx Cave, Arkansas' Oldest Show Cave, is only 15 minutes drive from our Eureka Springs inn. War Eagle Cavern, another fabulous cave – and on fantastic Beaver Lake to boot! – is only a half hour away.
5 Ojo loves sharing the Eureka Springs area with our guests. Just let us know what things you like to do and we'll point you in the right direction. See you soon!