Looking for a little adventure? War Eagle Cavern on beautiful Beaver Lake includes an underground lake, bats, trails, waterfalls, and more. Plus it's only a half hour's drive from 5 Ojo, our Eureka Springs bed and breakfast!
War Eagle Cavern is one of the oldest show caves in the state, and the largest in Northwest Arkansas. Its entrance is wide and dark, like some dragon's lair in a medieval fantasy. Inside, three stories of caverns contain many unusual shapes and features, including domes, rimstone dams, and waterfalls.
That's right, War Eagle is home to a natural, fresh water spring that flows out of the cave's mouth, next to the entry path. Very unique!
Touring the Cave
Those hoping to explore the cave's depths will be happy to know that two types of tours are offered.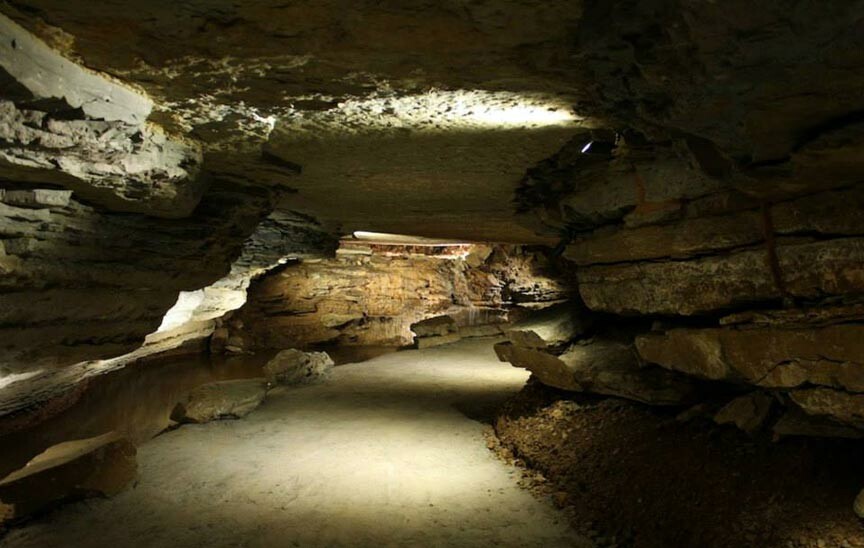 Guided Cave Tours last approximately one hour and follow the stream that flows throughout the cavern. The path is wide, flat, level, and stroller friendly with only a few steps here and there.
Your tour guide will fill you in on the geology, history, and legends of the area during your tour. You'll learn about stalactites, stalagmites, and other formations inside the cave. You'll also hear tales of the Native Americans, moonshiners, squatters, and outlaws who have used the cave over the centuries. You may also see some of the bats and salamanders that call the caverns home.
For the truly adventurous, there are also the 3-hour Wild Cavern Tours. These are available by reservation only Mid-July through October.
War Eagle Cavern's Wild Cavern Tours begin where the guided traditional tour ends. All participants must be at least 12 years old and ready to crawl, climb, and otherwise worm their way through nearly 2 miles of rooms and passages most never see.
You will get wet and muddy on this tour, so be sure to wear a long sleeve shirt, long pants, and tough, lace up shoes. Helmets, headlamps, kneepads, and gloves will be provided. Don't forget a change of clothes for when you're done!
That's Not All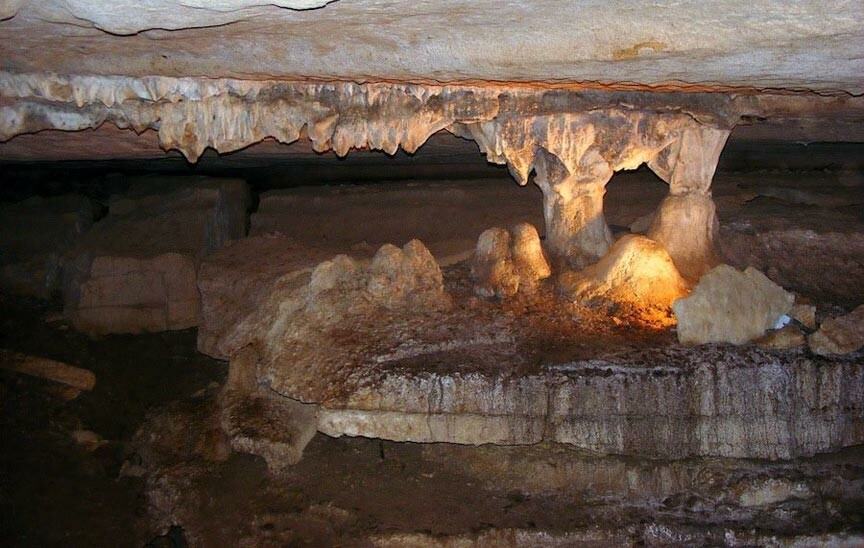 You'll find more to do, once you're done with your cave tour.
Scenic forest trails around the cavern will lead you to lovely natural waterfalls and entrancing views of Beaver Lake. You can also wander down and feed the fish at the boat dock.
Other attractions include gemstone panning, the Moonshiners' Mystery Shack, a Lost in the Woods maze, and a gift shop.
War Eagle Cavern on Beaver Lake
21494 Cavern Drive, Rogers, AR 72756
War Eagle Cavern is located one-half mile off Highway 12, midway between Eureka Springs and Rogers, AR on Beaver Lake. The cavern is closed from December to Mid-March, with hours varying seasonally. Learn more at the cavern website. You can also find the cavern on Facebook.
If the "War Eagle" name seems familiar, that may be because it's near War Eagle Mill, home of the famous annual Fall Craft Fair.
The Mill is just 4 miles Southwest of the cavern. This historic, water-powered grist mill is incredibly picturesque, with a gift shop and restaurant.
Consider a day trip with breakfast at 5 Ojo, a nice drive to the caverns for a tour, then lunch at the Bean Palace at War Eagle Mill. A perfect day in the Ozarks!