If you're fascinated by unique rock formations, you'll enjoy a visit to historic Pivot Rock Park. This Eureka Springs roadside attraction has been drawing visitors for over a century!
There's a lot to see and do in the Eureka Springs area, with Christ of the Ozarks, Beaver Lake, Onyx Cave, and so much more.
One of the most unique, however, is Pivot Rock Park – just 5 minutes from our Eureka Springs inn, 5 Ojo.
Pivot Rock Park
1708 Pivot Rock Rd, Eureka Springs, Arkansas, 72632
This small and historic roadside attraction is located a few miles north of Eureka Springs, just off of Highway 62 West. The park contains a variety of geological oddities reminiscent of stacked stone. Visitors pay a small fee, enter the park through the small gift shop, and then explore the park's attractions at their own speed.
A short hike takes you through a nicely wooded area, peppered with various natural attractions. Two of the larger formations are of particular interest and well worth the cost of admission.
Natural Bridge is the first you'll see as you travel the park's paved trail. The stone formation protrudes from the hillside's rugged bluffs and ravines, its curious arch shaped by eons of weathering.
Pivot Rock, the park's namesake, is just a little further along the trail and takes center stage. The naturally formed, upside down pyramid-like formation is approximately 12 feet (3.6 meters) in height and looks like it could tip over at any second. Despite this, it is actually quite secure and has survived years of inspection and photo opportunities.
Pivot Rock Park is open March to October.
Thorncrown Chapel
12968 US-62, Eureka Springs, AR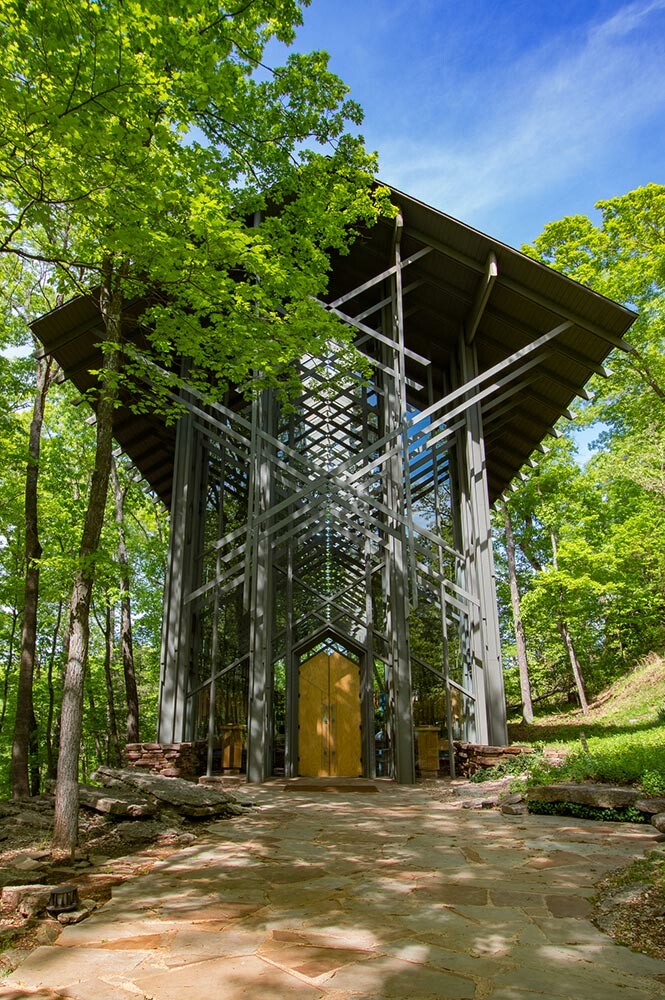 While you're in the area, another fascinating Eureka Springs attraction worth your attention is also in the same neck of the woods: Thorncrown Chapel.
Thorncrown Chapel is an architectural marvel of glass and wood nestled in the Ozark woods near Eureka Springs, AR. E. Fay Jones, a world renowned architect and apprentice to Frank Lloyd Wright designed the beautifully angled structure.
The unique building, composed almost entirely of organic materials, rises some forty-eight feet into the surrounding canopy. The only steel in the structure takes shape as diamond shaped patterns in the wooden trusses.
The wood beam frame rests on a foundation of native stone and colored flagstone, supporting more than 6,000 square feet of glass in 425 windows. All of this glass gives the chapel an open air look when, in fact, it is a completely enclosed space.
Thorncrown Chapel is only a 6 minute drive from our Eureka Springs bed and breakfast, 5 Ojo. The site is open to all visitors March through December, and offers non-denominational Sunday services seasonally.
Learn more by visiting the chapel online at thorncrown.com.