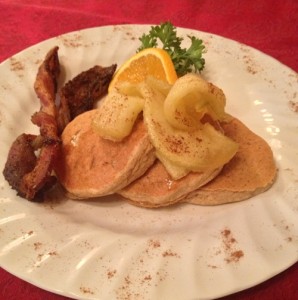 This weekend I was presented the challenge of making cinnamon pancakes with no gluten, no milk and no eggs for a guest at our bed and breakfast who required a gluten free and lactose free diet. This was a great opportunity for me to try modifying one of my favorite pancake recipes to see how it would work and I wanted to pass it along to anyone who might want to try it.
Even in the small town of Eureka Springs, Arkansas finding gluten-free flour is relatively easy now a days so I purchased some Bob's Red Mill Gluten Free Flour as my base. Then I decided to substitute almond milk for the regular milk.  As eggs are used for some of the leavening in pancakes, I added some Xanthan Gum to help bind the ingredients together.  To replace the egg I decided to use some unsweetened apple sauce. For a topping I made some caramelized apples using apple juice and sugar with some Granny Smith apples.
We were very happy with the results of this experiment. With the addition of cinnamon and topping the pancakes with caramelized apples it all came to together such that even those of us use to flour based pancakes thought these gluten-free ones tasted great.
If you try this gluten free recipe let us know it turns out and if you have any other ideas to try let us know.
—– Dry Ingredients —–
5/8 cup Gluten Free Flour; I used Bob's Red  Mill
2 tablespoon Sugar
1/2 teaspoon baking powder
1/4 teaspoon baking soda
1/8 teaspoon Salt
1 teaspoon Cinnamon
1/2 teaspoon Xanthan Gum
—– Wet Ingredients —-
5/8 cup almond milk
1/4 cup applesauce; unsweetened
—– Caramelized Apples —–
1 cup apples; cored, peeled, sliced
1/8 cup maple syrup; we use pure Vermont syrup
2 teaspoons apple juice
3/8 cup Sugar
PANCAKES
1. Combine all dry ingredients and mix well
2. Combine all wet ingredients
3. Add wet ingredients to dry ingredients and mix well. Let sit for 5-10 minutes.
4. Heat non-stick griddle to 350°F (if using a non-stick griddle, lightly coat it with vegetable oil)
5. Ladle 1 ounce of batter onto the griddle for each pancake
6. Cook until bubbles start to form on the edges and flip over, cooking the second side until golden brown. We also lift up the pancake to test for doneness as sometimes it's browned before the bubbles form.
CARAMELIZED APPLES
1) Toss the apples with the maple syrup.
2) In a medium saucepan, warm the apple juice and add 3/8 cup of sugar. Stir until just combined.
3) Add the applies and stir to cook.
4) Cook over medium heat until the mixture thickens and just begins to turn brown.
5) Remove from the heat and allow to cool slightly.
NOTES:
– I use half of a medium apple for each person. Usually I use Granny Smith.
– I used the Xanthan Gum to help replace the leavening that the egg would have provided.
– The applesauce was a replacement for the egg.
Yield: 2 servings