This weekend Eureka Springs celebrated Fleur Delicious, a French themed weekend with a street fair atmosphere where the city and it's lodging, retail/gift shops, spas, restaurants, bars, galleries and entertainment venues participated.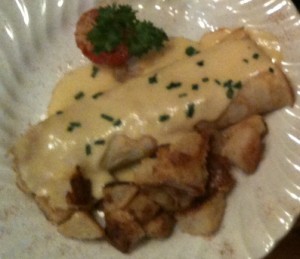 At 5 Ojo Inn Bed and Breakfast we served Crepes with Chive Scrambled Eggs, Smoked Pepper Bacon and Cheese Sauce on one morning, and French Toast a' la Orange with Sauteed Orange Rum Bananas the other. It was fun experimenting with different things.
It had been a while since I made fresh crepes but after a few practice ones, you can get into a real rhythm swirling the pan to spread the batter.
We're already thinking about what to do next year.