We wanted a new experience in coffee for our guests so we have begun putting Keurig Gourmet Coffee Brewers in our rooms. We installed the first four recently and so far our guests seem to love the brewers and the coffee they make.
But, there are over 200 kinds of coffee, tea and hot chocolate we can get. Wow, how is one supposed to try them all. We'd be bouncing off the walls if we did.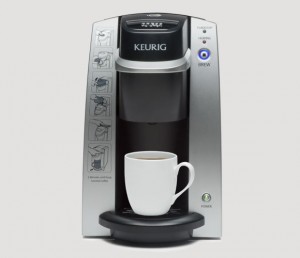 So, help us out! What are your tastes like? Do you like mild or strong brew coffee? Is tea your fav and if so, what kind? Do you like any particular flavored coffee? Let us know your opinions. Thanks!!
From Keurig's website: "We believe that coffee should always be served fresh, just like a gourmet coffee house, wherever you are. Period." Perhaps we'll have our own little personal coffee house at 5 Ojo Inn Bed and Breakfast in Eureka Springs, AR.