Time to think about the great outdoors. And where else to enjoy the outdoors than down on the Buffalo River in Arkansas located just a short jaunt from Eureka Springs. Buffalo River National State Park contains massive limestone bluffs with canoeing available on one of the few rivers remaining that is without a dam. It has the longest cave in Arkansas (Fitton) and one of the tallest wet weather waterfalls in the Midwest (Hemmed in Hollow).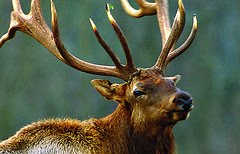 Buffalo River has the only elk herd in Arkansas. The free-flowing river meanders through the heart of the Ozarks for 150 miles and has both swift-moving and calm stretches. There are bluffs, woodlands, protected wilderness areas, nature watching opportunities and over 100 miles of hiking trails.
If you travel by motorcycle, the weather is warming up to great bike riding temperatures and traveling the roads are a treat themselves.
Photo Credit: Thanks to NPCA Photos for the great shot of an Elk on the Buffalo River.