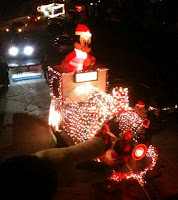 Twas a few weeks before Christmas and all through the town, people came out to see what was around. When, what to their wondering eyes did appear, but an artists rendition of all kinds of things!!
Eureka Springs, Arkansas had it's annual Santa's Christmas Parade the other night. We just love this parade. Festive, bright, artistic, candy and beads thrown to the crowd, floats, walkers, dogs and of course Santa. The spirit is more than alive here, it's pervasive. There are Christmas sales going on, a contest where you can win everything shown in a store window display, Dickens dinner theater, Holiday shows, lights throughout the city and much more.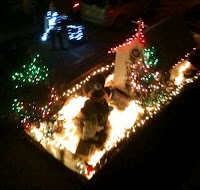 In this quaint, historic town you can even pretend you are in the same village that Tiny Tim lived in.
The 3rd annual Bed and Breakfast cookie tour is this coming weekend (December 12, 2009 from 1 to 6pm) where you can taste 20 different cookies at 10 different inns and enter a chance to win a $100 gift certificate at any of the participating bed and breakfasts. Most of the inns have a special which includes tickets to the tour.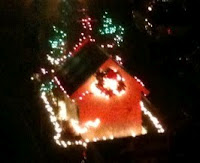 Come to Eureka Springs and stay at 5 Ojo Inn Bed and Breakfast where we will fill your bellies and warm your soul. Happy Holidays to everyone!!
Update: For even more pictures (and probably a little better view than mine, click here.
5 Ojo Inn Bed and Breakfast, Eureka Springs, AR