We have many organic farmers around Eureka Springs, AR and Patrice Gros is one of them. Before I started growing my own basil here at 5 Ojo Inn Bed and Breakfast I use to buy fresh basil from Patrice. For those interested in winter farming he is offering two classes you might be interested in.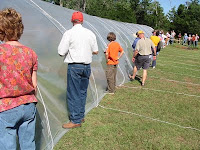 On Saturday, December 5, 2009 he will have a Hands-On class for Low Cost Hoop-House Construction. Participants will learn to build an actual 100 foot hoop house, complete with plastic covering. The workshop starts at 10:00 am and finishes at 3:00 pm. Cost is $50 for an individual and includes a simple organic lunch and detailed information package.
On Saturday, December 19, 2009 Patrice will have a Hoop-House Year Round Production Overview. Participants will study a complete years plan for hoop-house production. The presentation will cover crop choices, time tables, income potential and costs. The workshop is from 1:00 pm to 3:30 pm with a cost of $35.
Checkout the details at the Foundation Farm website.
5 Ojo Inn Bed and Breakfast, Eureka Springs, Arkansas