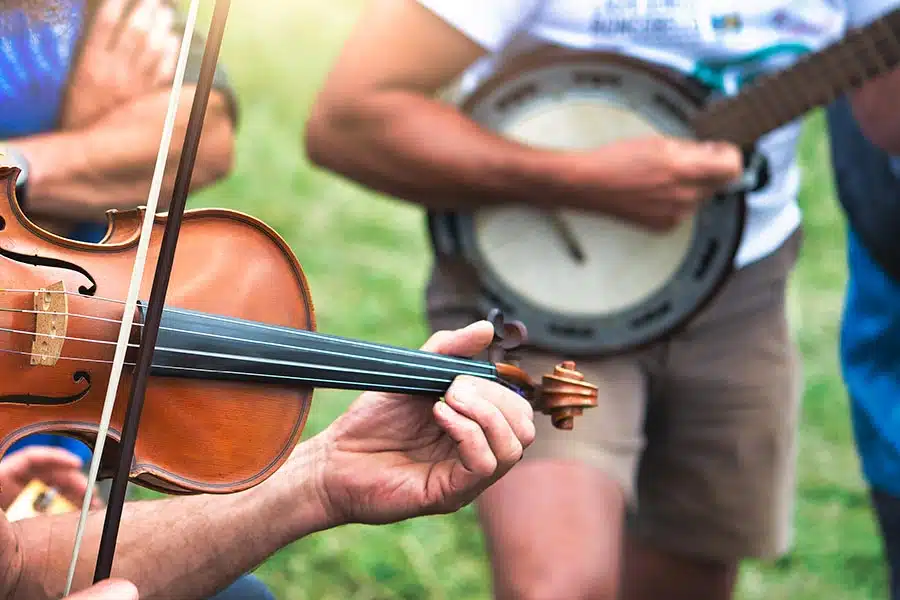 Get set for Original Ozark Folk Festival 2023, the country's longest, continuously running folk festival! 3 days of fun and music celebrating Ozarks culture. November 9th through the 11th, 2023 in downtown Eureka Springs.
There's nothing like traditional, Ozark folk music to get your feet tapping and your spirits flying high. If that statement resonates with you, you do NOT want to miss Original Ozark Folk Festival 2023. This popular, annual event has drawn talented musicians and fans of Folk and Americana to Eureka Springs every year since 1947. Wow!
The festival includes ticketed shows at the City Auditorium and free concerts in Basin Spring Park – but that's not all. You can also attend The Barefoot Ball and shop for traditional goods at The Ozark Folk Fair.
This year's festival celebrates the American Songwriter with a variety of rising stars of the folk world. Scheduled performers include The Hedgehoppers, Trout Fishing in America, and Matt the Electrician. There will also be a special performance by John Fullbright and the Kelly Willis, Brennon Leigh, and Melissa Carper Trio.
The annual Barefoot Ball will see performances by The Nightimers and Jumpsuit Jamey & the Can't Wait To Play Boys.
The Ozark Folk Fair offers a wonderful variety of unique, handmade arts and crafts; an excellent, early, holiday shopping opportunity! The Folk Fair is also a great place to hear live music and see both Ozark craft demonstrations and historical exhibits. 11am to 4pm, Friday and Saturday.
Original Ozark Folk Festival 2023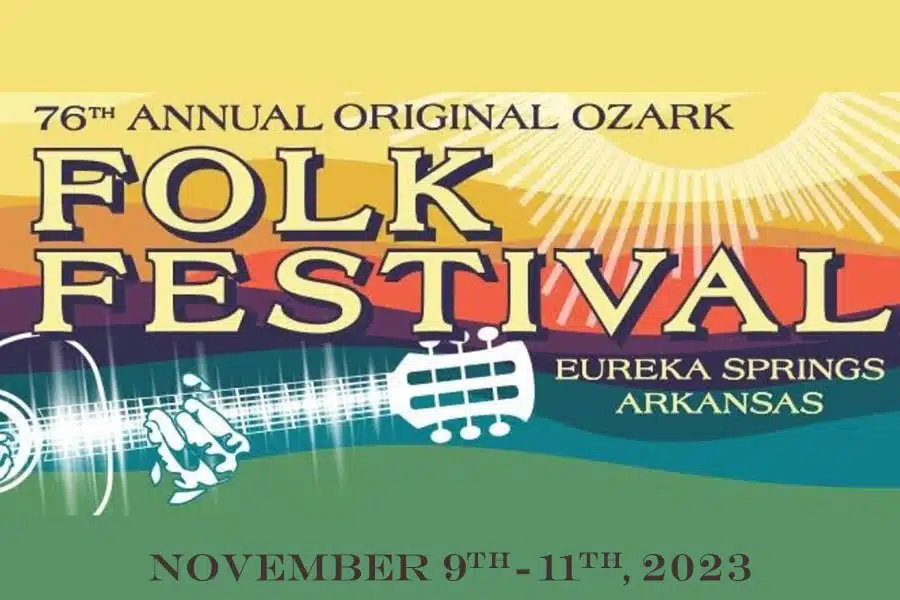 November 9th through the 11th, 2023 at the Eureka Springs City Auditorium. As always, Basin Spring Park will see a variety of free performances and impromptu jam sessions.
November 9th
6:30-7:30pm: The Hedgehoppers
8-11pm: Barefoot Ball at the City Auditorium. NightTimers, featuring Shila Molina and Doc Hopper, and Jumpsuit Jamey and the Can't Wait to Play Boys
November 10th
11am-4pm: Ozark Folk Fair, featuring performances by The Kory McKelvey Duo, Opal Agafia and DeAnna Smith, and Mountain Alice & Dylan Hawf
7-8:30pm: Trout Fishing in America and Matt the Electrician
November 11th
11am-4pm: Ozark Folk Fair, featuring performances by Jesse Dean, Still on the Hill, Trout Fishing in America, and the Luthier Bayard Blain Trio.
7-9:15pm: John Fullbright and The Melissa Carper, Brennen Leigh, Kelly Willis Trio
Best of all, our Eureka Springs bed and breakfast, 5 Ojo, is just minutes from downtown and the only 4-star, historic inn in town. Come see why and enjoy the comforts of our award-winning guestrooms and suites. Come soak up our unique location atop the highest peak inside Eureka Springs' city limits. Downtown's shops, restaurants, and galleries all just a short stroll away – ansd we're also on the city's Trolley Line. Book your stay at 5 Ojo today!
Visit the festival website for more information. You can also follow this event on Facebook.