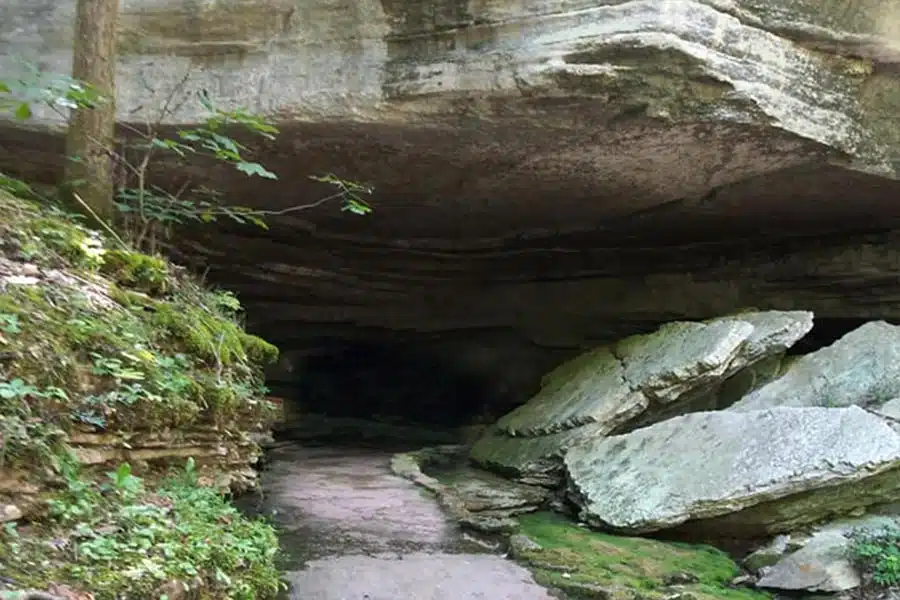 Those looking to get out and do something a little unusual will enjoy a visit to War Eagle Cavern on Beaver Lake. The popular attraction features an underground lake, waterfalls, subterranean wildlife, and much more. Best of all it's just a scenic, half hour's drive from Eureka Springs and your room at 5 Ojo.
The Eureka Springs area is home to a number of exciting, underground attractions and War Eagle Cavern is one of the oldest and largest. In fact, it's one of the oldest show caves in Arkansas and the largest in the region, with three stories of caverns to explore. Inside you'll find huge rooms filled with stalactites, stalagmites, domes, ribbons, rimstone dams, and other strange, natural formations.
Better yet, it's located on Beaver Lake, which is known for its fantastic fishing, boating, swimming, hiking, picnicking, and other fun activities.
Visiting War Eagle Cavern
War Eagle Cavern is unique in many ways but one of the most notable differences is its entrance. Most caves feature one or two smallish holes leading into the ground or a cliff face. Not War Eagle. Here you'll find a wide, dark passage under a huge stone slab. The path leading to the cave entrance is flanked by a fresh water spring that flows from the cave's mouth.
Inside, you'll find three stories of caverns containing a host of unique features and three different ways to see them.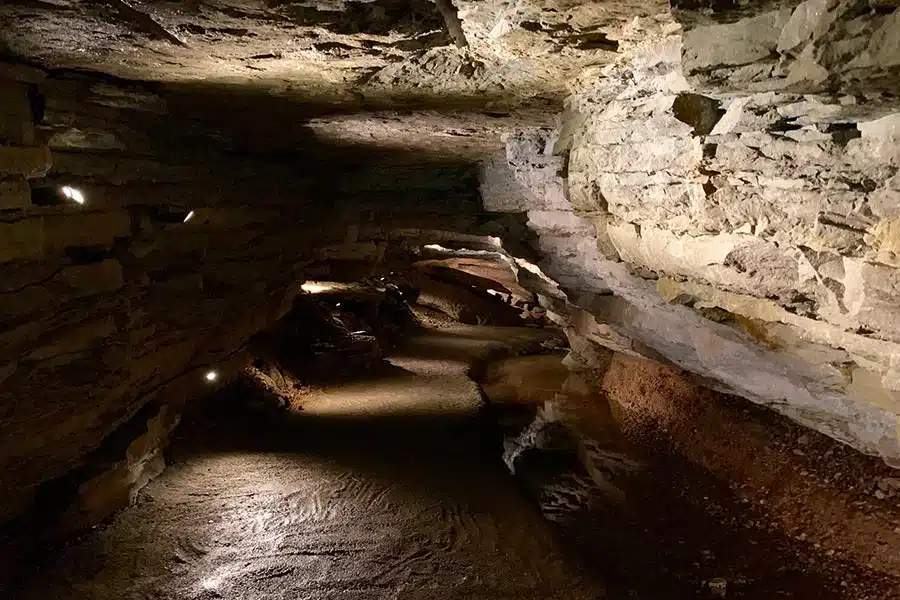 Sign up for the Traditional Cavern Tour and one of the expert guides will take you on a narrated, half-mile cave tour. You'll see lots of weird, mineral formations and learn about the cave's history. Fascinating tales of the Native Americans, moonshiners, soldiers, and outlaws who have used the cave over the centuries. Lucky guests may even see some of the cave's wildlife: including bats and salamanders.
Looking for something a little more out of the ordinary? Sign up for a Lantern Tour and enjoy an after-hours, guided tour lit only by hand held oil lamps. This tour also features its own, unique narration not told on the other tours.
Those who really like caves (and aren't afraid of getting a little mud) should consider going on a Wild Cavern Tour. This special tour takes you off the beaten path of well-lit walkways to twist, crawl, and climb through 2 miles of undeveloped passages. Highlights include a 100ft deep subterranean canyon and incredible natural formations that few ever see. Helmets, headlamps, kneepads, and gloves are provided but don't forget to bring a change of clothes!
Beyond the tours, War Eagle Cavern also offers scenic hiking trails leading to waterfalls and stunning, expansive views of Beaver Lake. Other, on-site activities include gemstone panning, the Moonshiners' Mystery Shack, and the Lost in the Woods maze. There is also an on-site gift shop and you can also feed the fish from the boat dock.
Getting There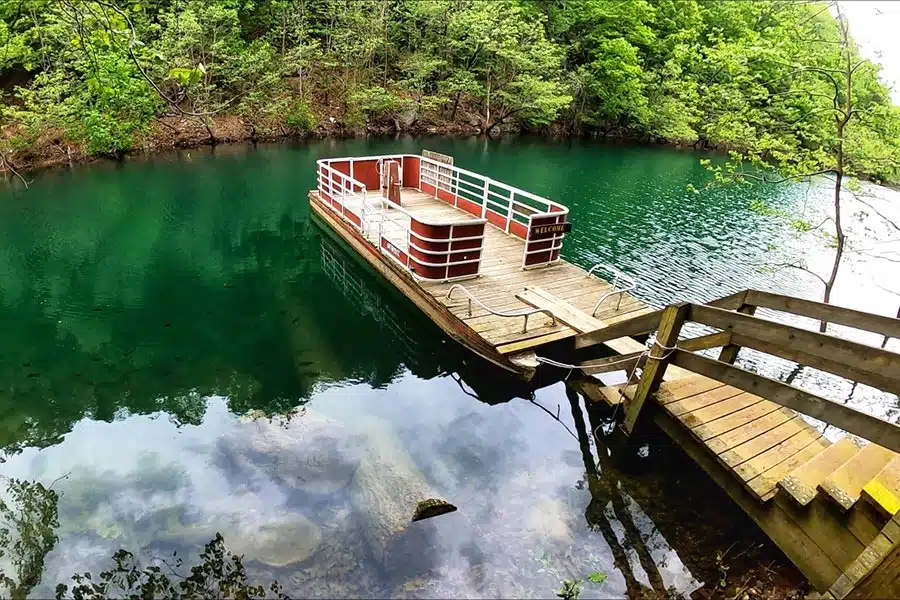 War Eagle Cavern is located at 21494 Cavern Drive in Rogers, AR. As we say above, this is just a half-hour drive from our Eureka Springs inn, 5 Ojo. War Eagle Cavern is open daily, March 5th through Thanksgiving Weekend, 9:30am to 5pm. The last cavern tour leaves at 4pm. Visit the cavern website for more information. You can also find this attraction on Facebook.
Another popular attraction, War Eagle Mill, is just 4 miles Southwest of the cavern. War Eagle Mill is a historic, water-powered grist mill and home of the famous annual Fall Craft Fair. The facilities include a gift shop and restaurant. In fact, it would be very easy to make a day trip out of your visit to the area.
Start off with a delicious breakfast at 5 Ojo, then it's a half-hour's scenic drive to the caverns for a fun tour. Next it's historic War Eagle Mill for lunch and to explore the property. After that, it's just a hop, skip, and a jump and you're back at the comforts of your room 5 Ojo. Perfect!