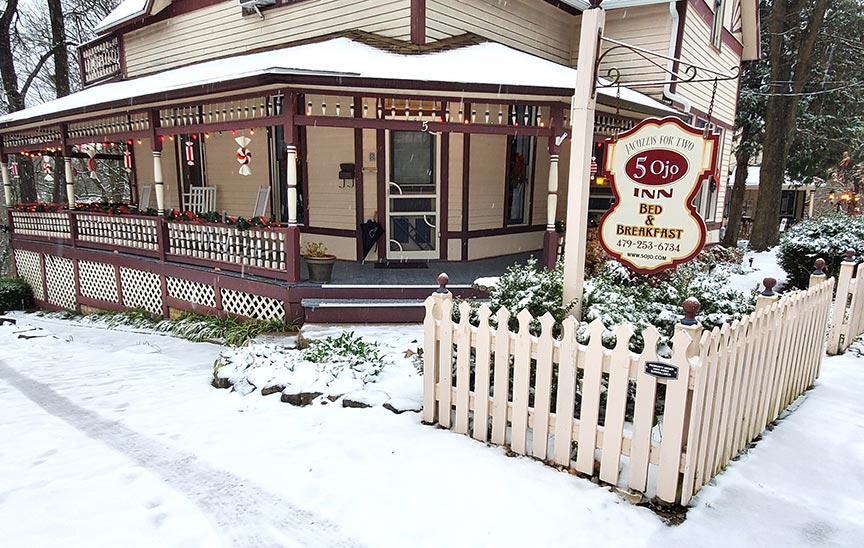 The holidays are nearly upon us and signs of the season are beginning to appear everywhere you look. Lights, trees, decorations, yummy smells, and seemingly endless holiday event announcements. No one celebrates the holidays like Eureka Springs. We've got parades, tours, displays, parties, sales, shows, and so much more! Come celebrate a Eureka Springs Christmas and see what all the fuss is about.
Eureka Springs Christmas Events 2022
Drive-Through Christmas Lights – Nov 25 to Jan 1, dusk to 8pm
Drive through a forest of over 250 Christmas trees and dozens of nativities at The Great Passion Play's annual drive-through Christmas light show. Open Fridays, Saturdays, and Sundays. Entry is by donation. Be sure to check out the Christmas Snow Village with Trains, too!
The Lights Get Lit in Basin Spring Park – Dec 2, 5pm – 5:30pm
Gather in historic Basin Spring Park for the annual holiday light lighting ceremony, featuring Santa, caroling, Eureka Springs' mayor, the Honorable Robert "Butch" Berry, and more.
Christmas Parade of Lights – Dec 2, 6pm to 8pm
The Eureka Springs Christmas Parade of Lights is one of the state's most popular night-time parades with floats, walkers, bands and thousands of lights.
Crescent Hotel Christmas Tree Forest – Dec 3 through Jan 1
The 1886 Crescent Hotel has a whole host of fun seasonal events to attend, including a forest of more than 30 brightly decorated and glittering Christmas trees. Attend the Tree Lighting Ceremony on December 3rd at 6pm.
Christmas Tour of Homes – Dec 3
Enjoy a festive, self-guided, Victorian walking tour through one of the largest historical districts in the country. These grand and graceful Victorian homes will be decorated for the season, with docents relating each property's history.
Living Windows in Downtown Eureka – Dec 10, 5pm to 7pm
Living Windows in Downtown Eureka sees real life people acting out Christmas scenes in shop windows, along with Christmas lights, Santa in the Park, carolers singing in the streets, and more!
Jinglin' Jeep Parade – Dec 17th, 6pm to 7pm
The annual Jinglin' Jeep Parade through downtown Eureka Springs promises lots of fun for Jeep enthusiasts and Christmas fans alike.
Holiday Shows at the Aud
Eureka Springs City Auditorium gets into the holiday spirit with a variety of fun seasonal shows to attend:
Merry Texas Christmas Y'all! Asleep at the Wheel – Dec 16, 7:30pm – 10pm
Grammy Award-winning Austin, Texas-based country music band Asleep at the Wheel presents a very special concert of fan favorites and choice cuts from their Christmas albums. Special guests: area favorite Cate Brothers.
Sounds of the Season – Dec 11, 7pm – 9pm
Join Eureka Springs' community choir, The Ozarks Chorale, as we celebrate the holidays with Christmas music!
Home for the Holidays – Dec 2, 8:30pm – 10pm, Dec 9, 7:30pm – 9pm
A free and family-friendly, live holiday celebration featuring local and regional performers of all genres.
And Lots More
We've just scratched the surface of some of the season's bigger celebrations. There simply isn't enough room to list every last Eureka Springs Christmas event and attraction on this year's calendar and plenty more have yet to be announced. What shape would your dream holiday getaway to Eureka Springs take? Let us know and we'll help make it a reality!
5 Ojo adores being a part of Eureka Springs and loves sharing the best of the area with our guests. We're proud to be the only 4-star, historic inn in town. Come spend this holiday season with us and discover the charm of a Eureka Springs Christmas.
Happy Holidays!