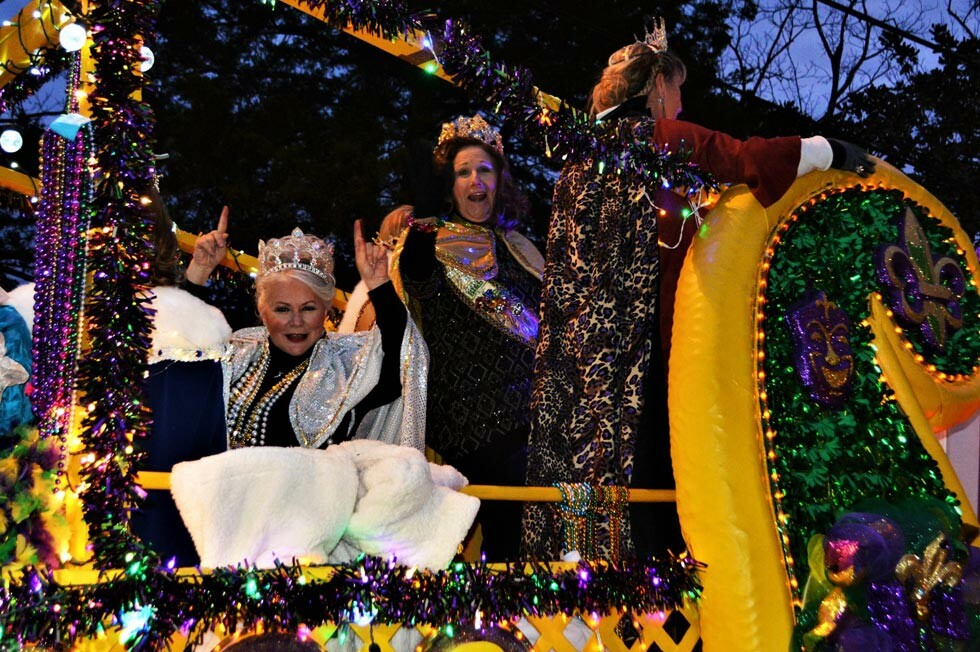 Hints of the upcoming Eureka Gras 2022 celebrations are already evident and the excitement is building. Eureka Springs' annual observance of Mardi Gras always delivers a variety of entertainments. Parties, parades, coronations, masked balls, and more, on now through the March 1st, 2022.
You'd think we might take a breath or two after just celebrating the end of the year holidays but oh, no. Not Eureka Springs … and definitely not when we're talking about Mardi Gras!
Eureka Springs likes a party, The more arty the party, the more hearty we party – and Mardi Gras makes for one arty party! People work many months, sometimes all year, on their Eureka Gras plans, floats, costumes, throws, and decorations.
This is especially true in 2022, after two depressing years of so many cancelled events and celebrations. In fact, Eureka Gras 2022 is essentially three years of pent up celebration rolled into one. Eureka Springs' Mardi Gras muscles are straining at the leash with suppressed energy!
This year's events include both day and night parades with floats, walkers, dancers, and bands, formal balls, and plenty of parties. Popular standouts include a Taste of N'Awlins, the Jazz Brunch in the Crystal Dining Room at the Crescent Hotel, and the awesome Night Parade. Dog lovers will not want to miss the Krewe of Barkus Day Parade, a very cute part of the Day Parade, scheduled for February 26th.
While many Eureka Gras 2022 events are free and open to the public, others require tickets. Check the schedule below for more details and don't hesitate to purchase tickets now, while they're still available.
Laissez les bon temps rouler!
Eureka Gras 2022 Events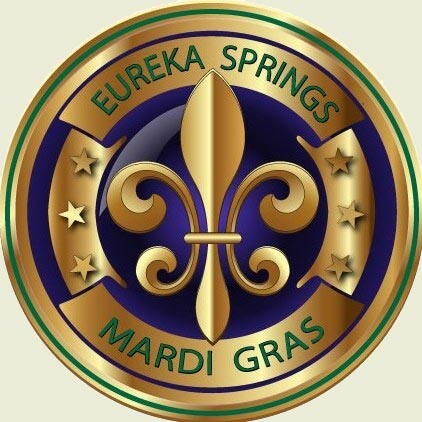 Krewe du Kork Karnival Kickoff
Jan 6th, noon at the "Bead-Dazzled Mardi Gras Tree" in downtown Eureka Springs
Krewe of Krazo King's Day Kickoff – Ticket Required*
Jan 8th, 5pm at Center Stage
Krewe du Kork KaBRAret Wine Dinner – Ticket Required*
Jan 29th, 6pm at The Grand Central Hotel and Taverne
Krewe of Krazo Taste of N'Awlins
Feb 5th, 1pm at the Basin Park Hotel
Eureka Springs Krewe of Barkus Coronation
Feb 8th, 3pm (venue TBD)
Krewe du Kork's A Taste of Eureka Gras!
at participating restaurants, noon, Feb 16th through 9pm, March 1st
Krewe of Krazo Coronation Ball – Ticket Required*
Feb 18th, 5:30pm at Inn of the Ozarks Convention Center
Beads, Booze & Brunch
10am, Feb 19th, to 2pm Feb 20th at the Spring On Main
Eureka Springs Night Parade
Feb 19th, 6pm in downtown Eureka Springs
Black Light Ball – Ticket Required*
Feb 19th, 7pm to midnight at Chelsea's
Krazo Masquerade Ball – Ticket Required*
Feb 25th, 6pm at Inn of the Ozarks Convention Center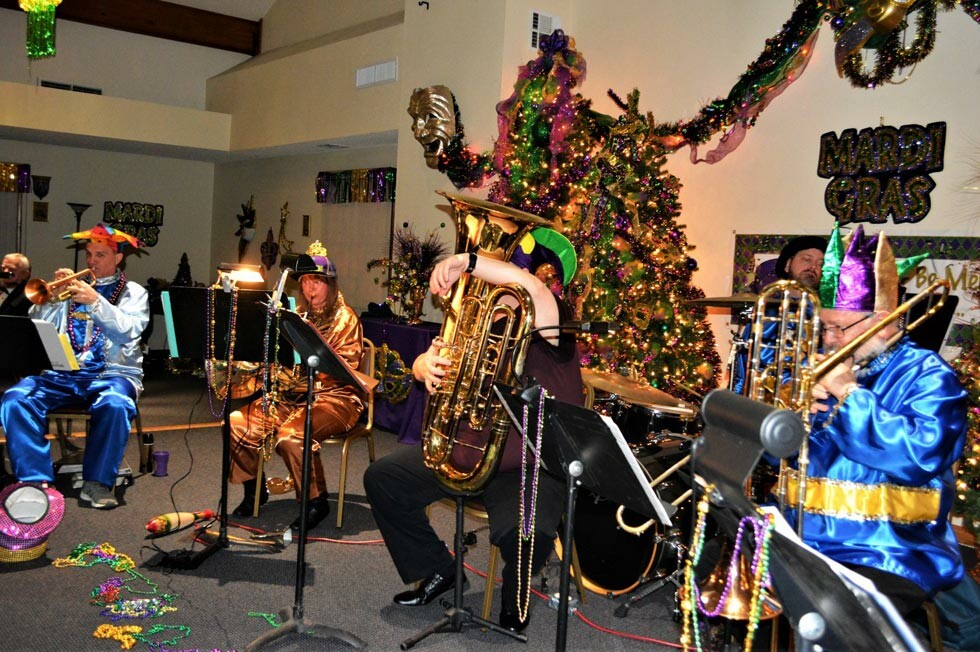 Eureka Springs Day Parade
Feb 26th, 2pm in downtown Eureka Springs
Jazz Brunch
Feb 27th, noon at the Crescent Hotel Crystal Dining Room
Krew du Kork Lundi Gras Red Beans & Rice Party
Feb 28th, noon at the Eureka Springs Coffee House
Eureka Springs Fat Tuesday Wrap Party
March 1st, 4pm to 7pm at the Wanderoo Gravel Bar
Visit the Eureka Springs Mardi Gras website for more information and tickets. You can also learn more about these events on Facebook.
Eureka Springs Lodging
Looking for somewhere to call home during your Eureka Springs adventures? 5 Ojo, our award-winning, Eureka Springs bed and breakfast, is here for you. Our nine, plush rooms/suites are located on the highest peak in city limits yet just a short stroll to downtown shops, restaurants, and galleries. We're also on the City Trolley System, putting all of Eureka Springs at your feet. Book your stay at 5 Ojo today!