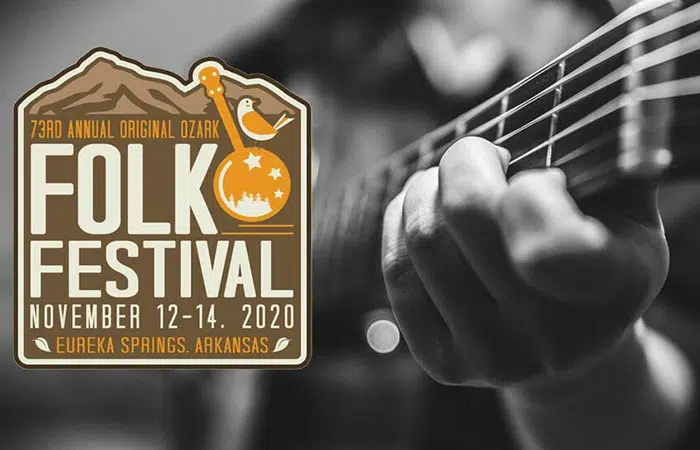 Huzzah! Ozark Folk Festival 2020, scheduled for November 11th through November 14th in Eureka Springs, is a go! Things have been a bit dicey this year, as I'm sure you're aware, but the 73rd annual festival will be taking place!
The original Ozark Folk Festival is America's longest, continuously presented folk festival – and no pesky pandemic is going to stop that! But don't worry. The return of this popular and beloved annual music celebration does not come at the cost of safety or common sense.
The festival has long been held at various venues around town, with Basin Spring Park and the Aud shouldering much of the burden. This year will continue to see performances at various venues but concerts at Basin Spring Park and the City Auditorium are off the menu.
Instead, there will be scheduled and socially distanced performances at a few venues while the rest of the festival will be over your head.
Perhaps I should explain that …
A Festival Over Your Head
In the face of the 2020 Covid-19 pandemic, Eureka Springs decided to try something new to keep music alive on the summer streets.
The solution was the Overhead Music Series, a set of live, weekend performances presented from balconies above Spring and Main Streets. This way, people can still enjoy a safe, live concert experience. Better yet, they can do so while shopping, dining, or even just going about their business!
The on-going series has been so successful that Ozark Folk Festival 2020 is going to use the same model.
Ozark Folk Festival 2020 Lineup and Venues
November 11 – 14 in Eureka Springs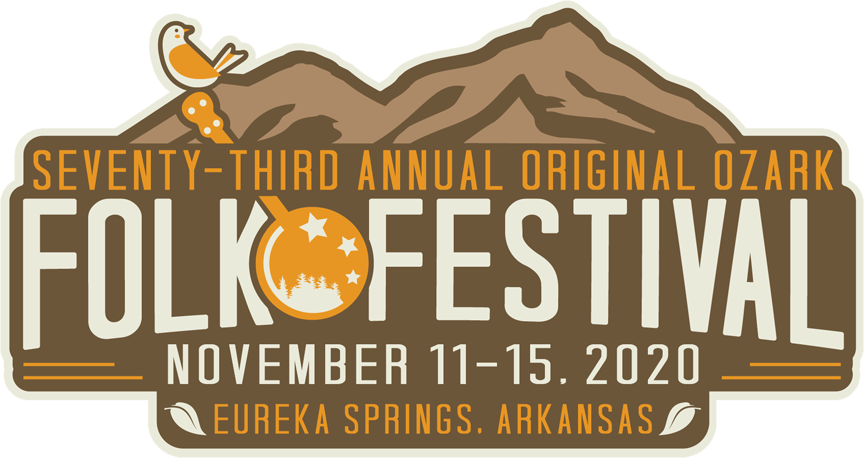 Chucky Waggs & the Company of Waggs
Rachel Fields
Lonesome Narrow
Black Mountain Fever
Sprungbilly
Skye Pollard
Danny Spain
Lily B Moonflower & Jake Keegan
Dandelion Heart
and more to be announced
Indoor venues for this year's festival include Gotahold Brewery, The Gravel Bar, and Chelsea's Corner Cafe & Bar.
2020 Overhead Music Series
The Overhead Music Series that has entertained downtown Eureka Springs all summer is still going strong with dates up to mid November. Come enjoy the live music presented from balconies as you enjoy the shops and galleries downtown.
Spring Street Schedule:
Thursdays & Fridays, 6pm to 8pm
Saturdays, 10am to Noon, 3pm to 5pm, and 6pm to 8pm
Main Street Schedule:
Saturdays, 11am to Noon
Learn more at www.eurekasprings.org.
Eureka Springs Lodging
5 Ojo is Eureka Springs only 4-star, historic B&B. Enjoy a stay in our award-winning guestrooms and suites Our unique location atop the highest peak within Eureka Springs city limits has you just a short stroll from downtown shops, restaurants, and galleries. Book your stay at our Eureka Springs inn today!