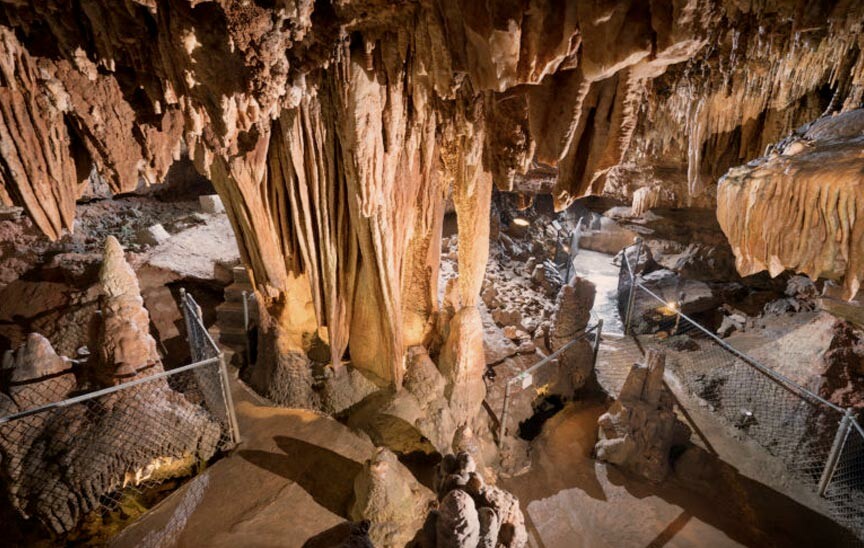 Arkansas is riddled with fascinating caves you can visit and tour. Did you know that Arkansas' oldest show cave, Onyx Cave, is barely 15 minutes away from 5 Ojo, our Eureka Springs inn? It's true!
Onyx Cave first opened to the public in 1893, just a couple of years after its discovery. The cave is filled with fascinating shapes: stalagmites, stalactites, and weird formations of flowstone. In fact, that's where the cave got its name.
Flowstone is a smooth, sheet-like deposit of minerals that forms in a limestone cave, over thousands of years due to flowing water. Flowstone was once commonly referred to as "cave onyx," and at least four states are home to one or more caves with "onyx" in their names.
Show caves were not always as well protected or respected as they are now. In the early days, visitors didn't think twice about taking a souvenir home with them. As Arkansas' oldest show cave, Onyx shows a lot of this historic wear and tear.
It was even used for some scenes in the 1969 science fiction, b-movie, "It's Alive." Despite this, the cave is still a fascinating and fun place to visit and tour.
Touring The Cavern
Explore the cave with a 30 minute, self-guided, audio tour. The informative tour includes information on the cave's history, geology, and wildlife.
The tour will take you through all the chambers of the cave, places like the Witches Fireplace and the Friendly Dragon. Cave paths are smooth and level, with steps and handrails where necessary.
Like most caves, Onyx stays at an average temperature of around 57 degrees Fahrenheit (13.8 degrees Celsius) all year. Be sure to dress appropriately for the chill.
Other attractions at the cave include a Rock and Gift Shop, a sluice to pan for semi-precious gems, and axe throwing. Hungry? You can also enjoy a snow cone at the cave. Yum! Especially welcome on hot summer days.
Onyx Cave Park
338 Onyx Cave Lane, Eureka Springs, AR 72632
Visit the cave website for seasonal hours and other information. You can also visit the cave on Facebook.
Eureka Springs Lodging
Onyx Cave isn't the only show cave in the Eureka Springs area. War Eagle Cavern and Cosmic Cavern are famous, popular, and a half an hour or less from our Eureka Springs inn, 5 Ojo. 5 Ojo offers 9 comfortable guest rooms in 2 historic homes, complete with fabulous gourmet breakfasts and complimentary extras. Let us spoil you with our famous, Ozarks hospitality. Book your Eureka Springs getaway today at Ojo!