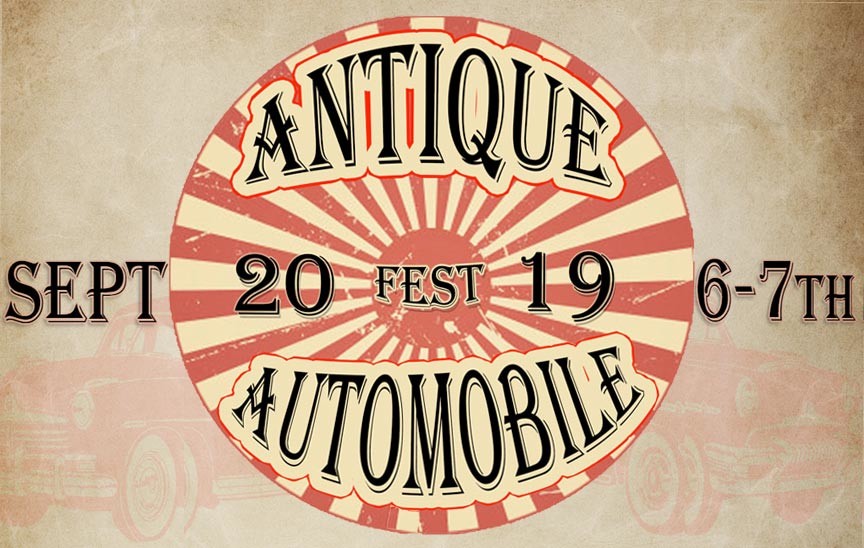 Gearheads rejoice: Eureka Springs Antique Automobile Festival 2019 is rounding the curve and roaring up towards us at breakneck speed! The 49th annual return of the longest running car show in the Ozarks is scheduled for September 6th and 7th, 2019 at The Great Passion Play.
Eureka Springs Antique Automobile Festival has been a regional tradition for almost fifty years now. The annual event draws hundreds of restored classic cars and trucks, customized hot rods, muscle cars, street machines, and many other rare vehicles.
The event also includes a sunset cruise and poker run around Beaver Lake, Valve Cover Racing, music, vendors, and food trucks. A panel of professional judges will spend the weekend judging the cars. Categories for consideration include Best Interior, Best Engine, Best Paint, Best Theme, and Best of Show.
The whole shebang winds up with an awards ceremony and a parade of show cars through downtown Eureka Springs on Saturday afternoon.
Eureka Springs Antique Automobile Festival 2019 Schedule
Friday, September 6th
2pm to 5pm – Early car registration at Passion Play
​5pm to 6pm – Sunset Cruise and Poker Run Around Beaver Lake
Saturday, September 7th
7:30am – Breakfast available for purchase on-site at the Great Passion Play
8am – Pre-registration for show cars​
9am – Gates open, car judging begins
3pm – Awards presentation
4pm – Car parade through downtown Eureka Springs
The Great Passion Play
Eureka Springs Antique Auto Fest is held at The Great Passion Play, just minutes from downtown and our Eureka Springs bed and breakfast, 5 Ojo.
The Great Passion Play is a Christian theme park with a 4,000 seat outdoor amphitheater, and a variety of other attractions, including a section of the Berlin Wall.
The Great Passion Play has been presenting the story of Christ since on stage to live audiences 1968. More than 8 million visitors have attended over the years – and who can blame them? The production occurs on a 550 foot-wide, three-story tall set the size of two football fields. The play includes more than 150 actors, live animals, and incredibly detailed sets.
The Passion Play itself has a limited season, with select dates from April to December. Other attractions at the park, like The Holy Land Tour, Bible Museum, and Noah's Ark Park Petting Zoo are open year 'round.
Passion Play restaurants will be open during the festival, along with the other attractions for your enjoyment.
Eureka Springs Antique Automobile Festival 2019
September 6th and 7th, 2019
The Great Passion Play – 935 Passion Play Road, Eureka Springs, AR 72632
A trolley service from downtown Eureka Springs to The Great Passion Play will run throughout the weekend, providing easy access to ample free parking. Learn more at www.antiqueautofest.com. You can also follow this event on Facebook.
Eureka Springs Lodging
5 Ojo Inn Bed & Breakfast offers 9 beautifully appointed guestrooms in 2 historic homes. Stay with us and enjoy serve daily gourmet breakfasts, a wealth of complimentary extras, and a heaping helping of Ozarks' hospitality. Book your stay at 5 Ojo today!