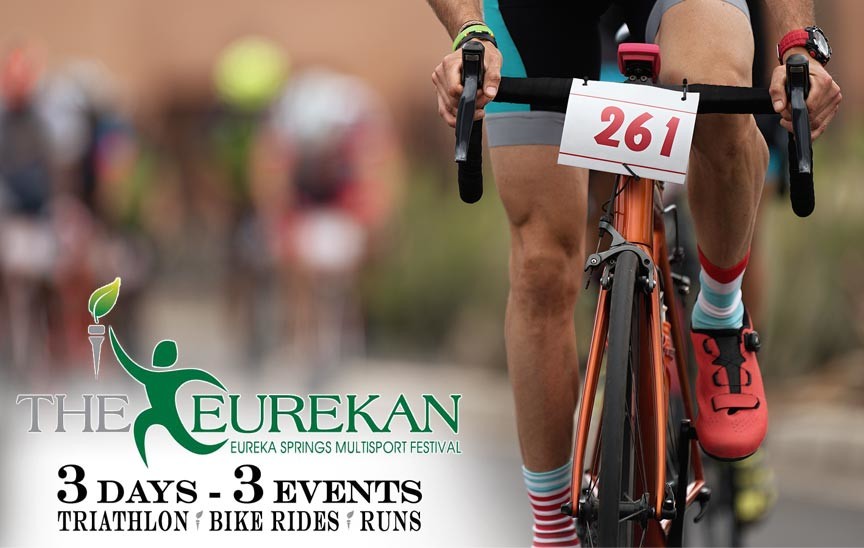 The annual Eurekan is a three-day multisport festival held in and around Eureka Springs, AR. The festival offers a triathlon, 3 different bike races, a 5k, and a 10k race. July 19th through the 21st, 2019.
There may be no better way to get out into the great outdoors than with a good run, swim, or bike ride. The annual Eureka Springs multisport festival offers plenty of opportunities to do all three – and in the majestic beauty of the Ozarks, no less!
In fact, you can enter any event you want – or even multiple events! Why settle for one race when you can run, bike, and swim them all? The festival offers three ways to do just that – via the Triathlon, the Half, or the Full Eurekan.
The Triathlon combines a 2 mile run and a 6 mile bike ride with a 300 yard swim. The Full Eurekan challenge, on the other hand, combines the Triathlon with the 100-mile bike race and the 10k run. The Half trims the bike ride down to 62 miles and the run to 5k. Still a very respectable challenge!
Most festival events take place in downtown Eureka Springs. The Triathlon is held at Holiday Island, about 15 minutes north of Eureka Springs, and the swim is at Table Rock Lake.
Sunday sees both the Awards Ceremony and the popular Video & Picture Recap of the weekend. Door prizes are given to all the event participants who attend the ceremony.
Come on out and have some fun in Eureka Springs!
Eurekan Multisport Festival Event Schedule
Thursday, July 18
Race Day Basics Workshop – 6-7pm
Friday July 19
Prayer – 1:50pm
National Anthem – 1:55pm
Triathlon – 2pm
Saturday July 20
Prayer – 6:50am
National Anthem – 6:55am
100 mile Gran Fondo – 7am
62 mile Gran Fondo – 7:15am
30 mile Gran Fondo – 7:30am
21 mile Gran Fondo – 7:35am
Sunday July 21
5K Run – 7:30am
10K Run – 7:45am
Video & Photo Recap – 11am
Door Prizes – 11am
"The Full Eurekan" Recognition – 11:30am
The Eurekan 2019
August 19th, 20th, and 21st, 2018
Downtown Eureka Springs, AR
Visit the festival website for more details. You can also follow this event on Facebook.
Eureka Springs Lodging
Whether you're coming to Eureka Springs as a participant, spectator, or impartial bystander, 5 Ojo would love to be your Eureka Springs home away from home. Our historic, Eureka Springs Bed and Breakfast is conveniently located just minutes from downtown. Enjoy plush accommodations, delicious breakfasts, and a local's insight into the area when you stay at 5Ojo. Book your room today!