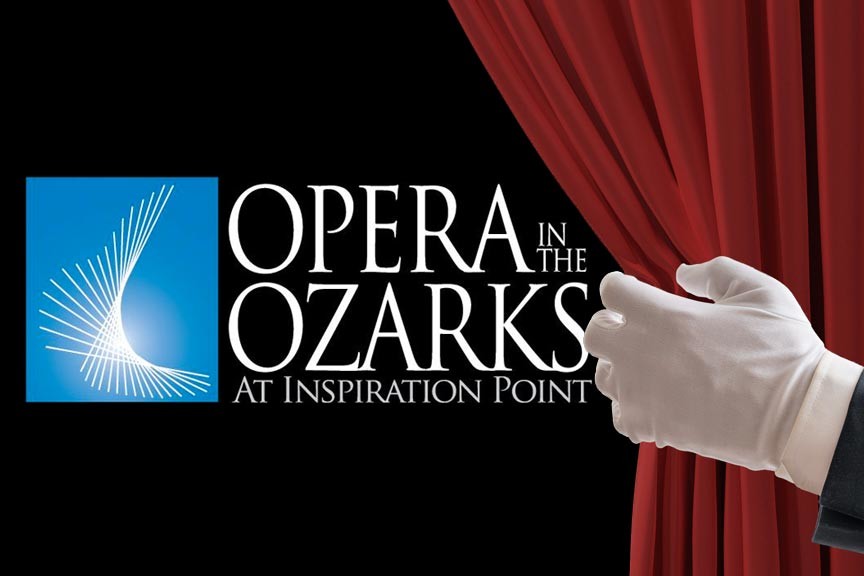 Opera In The Ozarks 2019 brings Puccini, Mozart, and Adamo to life during the 69th season of the nationally acclaimed summer music festival. June 21st through July 19th, 2019.
The Opera In The Ozarks 2019 theme is "Changes of the Heart," featuring three classic works: Adamo's "Little Women," Mozart's "The Abduction from the Seraglio," and Puccini's "La Bohème."
"Little Women" is adapted from the classic, Louisa May Alcott novel of the same name. The moving and powerful story centers on the love of four sisters: Jo, Meg, Beth and Amy. Performed in English.
"La Bohème" follows the tragic and emotional tale of two pairs of Bohemian artists and lovers in Paris. Presented in Italian with English supertitles.
Mozart's "The Abduction from the Seraglio" is a classic comedy that also demonstrates the power of love. Sung in German with English dialogue and supertitles.
Opera in the Ozarks 2019 Season Schedule
Little Women – June 21, 26, 29 | July 2, 7, 12, 18
The Abduction from the Seraglio – June 22, 27 | July 1, 5, 8, 11, 17
La Boheme – June 25, 28, 30 | July 3, 6, 9, 13, 19
Sunday shows: 2:30pm. All other shows 7:30pm
Special Shows
Opera In The Ozarks 2019 also includes a few special engagements.
Broadway Cabaret
– at Fayetteville Town Center: July 10, 7:30pm
– at Basin Park Hotel: July 16, 7:30pm
The Broadway Cabaret is an energetic and fun review of classic Broadway tunes. Last year's Broadway Cabaret performance was so popular that they're presenting the program twice this year. The first performance will be in Fayetteville, at the Fayetteville Town Center, on July 10th. The second show will be at the Basin Park Hotel on July 16th . Tickets include light hors d'oeuvres, and a cash bar.
A Taste of Opera
– at Crescent Hotel: July 17, 5pm
A magical evening of favorite arias, Broadway classics, and love songs presented by top young opera singers from across the country. Tickets include dinner and a wine tasting. Tickets are limited and always go FAST.
Chamber Music in the Chapel and at The Aud
– at Mildred B. Cooper Memorial Chapel: July 14, 2:30pm
– at Eureka Springs Auditorium: July 15, 7:30pm
These two concerts feature the Opera In The Ozarks orchestra performing chamber music. The first performance, 2:30pm on July 14th, will be held at Bella Vista's acoustically excellent Mildred B. Cooper Memorial Chapel. The second engagement, July 15th at 7:30pm, will be held at the Eureka Springs Auditorium.
Opera In The Ozarks At Inspiration Point
Inspiration Point Fine Arts
16311 Hwy 62 West, Eureka Springs, AR 72632
Visit opera.org for tickets and more information. You can also follow Opera In The Ozarks on Facebook and Twitter.
Eureka Springs Lodging
5 Ojo is just 10 minutes from Opera In The Ozarks. Our Eureka Springs Bed and Breakfast offers 9 guestrooms in 2 historic homes. Stay with us for daily gourmet breakfasts, complimentary extras, and the best in true Ozarks' hospitality. Book your stay at 5 Ojo Inn Bed & Breakfast today!