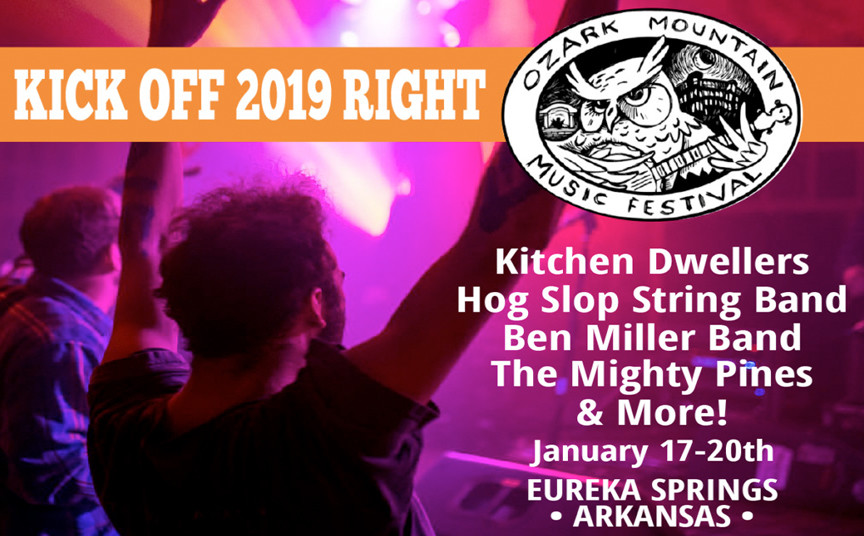 What goes around comes around and here we are, back at Ozark Mountain Music Festival time, once again. 2019's four days of fun and music in Eureka Springs are scheduled for January 17th through the 20th, 2019.
Ozark Mountain Music Festival 2019 (OzMoMu) returns to the historic Basin Street Hotel in 2019 with 11 bands in 4 days. This year's headliners include Kitchen Dwellers, Hogslop String Band, Ben Miller Band, and The Mighty Pines.
The annual Ozark Mountain Music Festival is a multi-day celebration of Bluegrass, Folk, and American Roots Music. The event draws bands of a caliber often associated with such major festivals as Wakarusa or Harvest Fest. The difference here being that festival goers get to come inside during a chilly January for some hot music and warm memories.
One of the best perks of Ozark Mountain Music Festival is that there is no back stage. This means the audience and the bands all share the same space. This friendly and boisterous intimacy is a big part of what makes OzMoMu such a hit with bands and fans alike.
You're going to work up a powerful hunger and thirst along with all that great music – but don't worry. Ozark Mountain Music Festival 2019 also includes some excellent food and drink options. You'll go neither hungry nor broke at OzMoMu 2019!
For a truly unique experience, you don't want to miss the improvisational Late Night Jam sessions at Chelsea's Corner Cafe & Bar. These occur after the festival proper, on Friday and Saturday nights, and sometimes present some of the best music of the festival!
Ozark Mountain Music Festival 2019
January 17 – 20, 2019
1905 Basin Park Hotel – 12 Spring Street, Eureka Springs, AR
Learn more about Ozark Mountain Music Festival 2019 on the festival website or Facebook page.
Eureka Springs Lodging
Let 5 Ojo Inn Bed & Breakfast be your home away from home during Ozark Mountain Music Festival. Our historic, Eureka Springs B&B offers a variety of comfortable guest rooms and suites to choose from – and all less than a mile from Basin Park Hotel. So go ahead, book your room at 5 Ojo today!