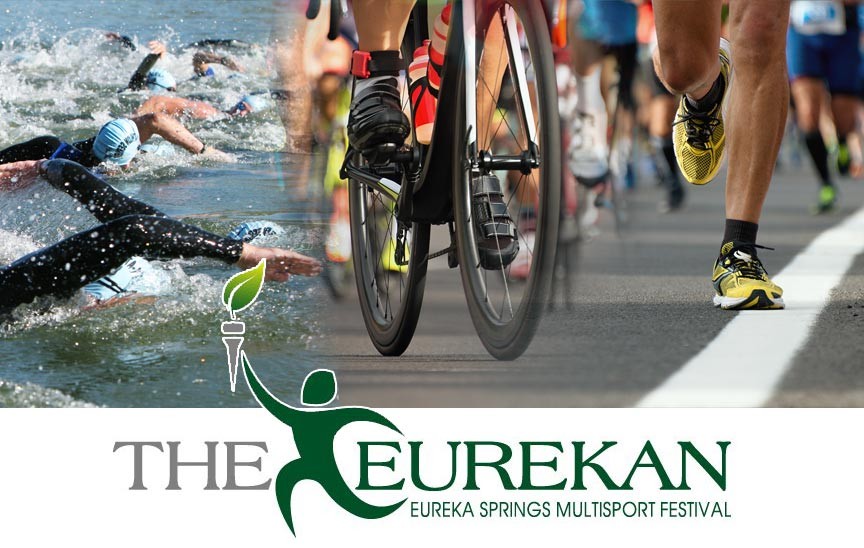 Summer is heating up and Eureka Springs' annual multisport festival, the 2018 Eurekan, is only going to make things hotter! August 10th, 11th, and 12th, 2018!
Eureka Springs' annual Eurekan is a three-day, multisport festival. Each day of the festival brings new challenges to the competitors! There's a Triathlon, 5k and 10k runs, plus 3 Gran Fondo bike rides in 21, 62, and 100 mile lengths.
Registered participants may enter any individual events they wish. The Eureka Springs Multisport Triathlon is always a good challenge, combining a 300 yard swim with a 6 mile bike ride and a 2 mile run.
Those feeling especially fit may want to consider competing in the Eurekan or the Half Eurekan. The Eurekan combines the Triathlon, 100 Mile Gran Fondo Bike Ride, and the 10K run. The Half Eurekan consists of the Triathlon (same as above), the 62 Mile Gran Fondo Bike Ride, and the 5K run. You'll want to register soon, though – these last two contests are available to a limited number of participants.
Most of Eureka Springs' annual Multisport Festival is takes place downtown. Biking and running events, for example, finish on Main Street in front of the Courthouse. The Triathlon is held at Holiday Island, about 15 minutes north of Eureka Springs. The swim portion is held at Table Rock Lake.
2018 Eurekan Multisport Festival Schedule
Friday, August 10th
2pm – Triathlon Start
Saturday, August 11th
7am – 100 Mile Gran Fondo Bike Ride Start
7:15am – 62 mile Gran Fondo Bike Ride Start
7:30am – 21 mile Gran Fondo Bike Ride Start
Sunday, August 12th
7:30am – 5K Run Start
7:45am – 10K Run Starts
11am – Awards Ceremony
2018 Eurekan – Eureka Springs Multisport Festival
August 10th, 11th, and 12th, 2018
Downtown Eureka Springs, AR
Visit www.eurekasportsfestival.com for more details. You can also follow the event on Facebook.
Eureka Springs Lodging
5 Ojo would love to be your Eureka Springs home away from home, no matter what brings you here. We offer, incredibly comfortable and friendly lodging, delicious breakfasts, and a local's insight into the area. Plus, our historic, Eureka Springs B&B is just minutes from downtown. Book your stay at 5Ojo today!