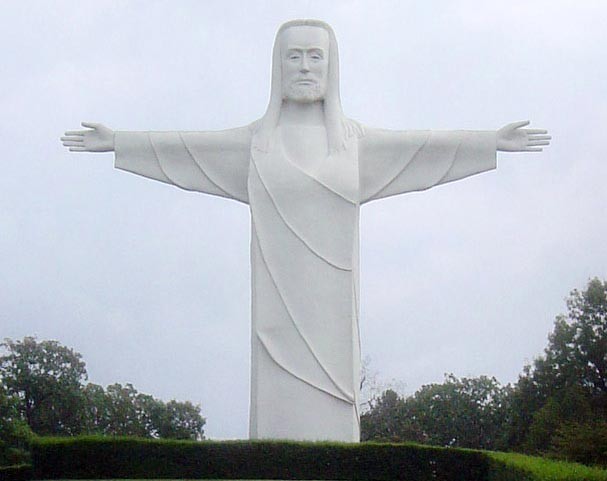 2018 marks the 50th Anniversary of Eureka Springs Great Passion Play. Tickets are on sale now for "America's #1 Attended Outdoor Drama!" May 4th through October 27th, 2018.
Eureka Springs Great Passion Play opened in 1968 and has only become larger and more famous with each passing year. The Great Passion Play relates "The Greatest Story Ever Told" in an 4,000 seat outdoor amphitheater.
Nearly 8 million visitors have taken in Eureka Springs Great Passion Play over the years – and what a show! The play is presented on a 550 foot-wide, three-story set the size of two football fields.
You'll marvel at the sheer scope of the stage production. Expansive sets, live animals, and more than 150 actors come together each show to portray Jesus Christ's last week in this 2.5 hour drama. Old Jerusalem is so believably reproduced you'll feel like you've been whisked overseas and back through time!
Best of all, the Great Passion Play is just one of many things you can do and see here in the shadow of the Christ of the Ozarks.
One of the most popular attractions, outside the Great Passion Play, is The Holy Land Tour. This living history tour will transport you back through time and space to the biblical era of the Holy Land. Here you'll walk through a life-sized replica of Jerusalem's Eastern Gate into an authentic, biblical marketplace. Experience the craftspeople and characters of the bible and even witness Jesus walk on water.
Other attractions include Moses' Tabernacle in the Wilderness, a Bible Museum, Noah's Ark Park Petting Zoo, trails for hiking and mountain biking, and much more! You can even see a section of the Berlin Wall!
While the Great Passion Play has a limited season, the rest of the attractions are open year 'round!
Eureka Springs Great Passion Play
2018 Season: May 4th through October 27th
935 Passion Play Rd, Eureka Springs, AR 72632
Visit www.greatpassionplay.org for the 2018 Great Passion Play schedule, tickets and more information.
Great Passion Play Lodging
The Great Passion Play amphitheater is just a little over 5 minutes from the door of our Eureka Springs B&B. 5 Ojo Inn Bed & Breakfast offers 9 beautifully appointed guest rooms in 2 historic homes. Stay with us and enjoy serve daily gourmet breakfasts, a wealth of complimentary extras, and a heaping helping of Ozarks' hospitality. Book your Eureka Springs lodging at 5 Ojo Bed & Breakfast, today!