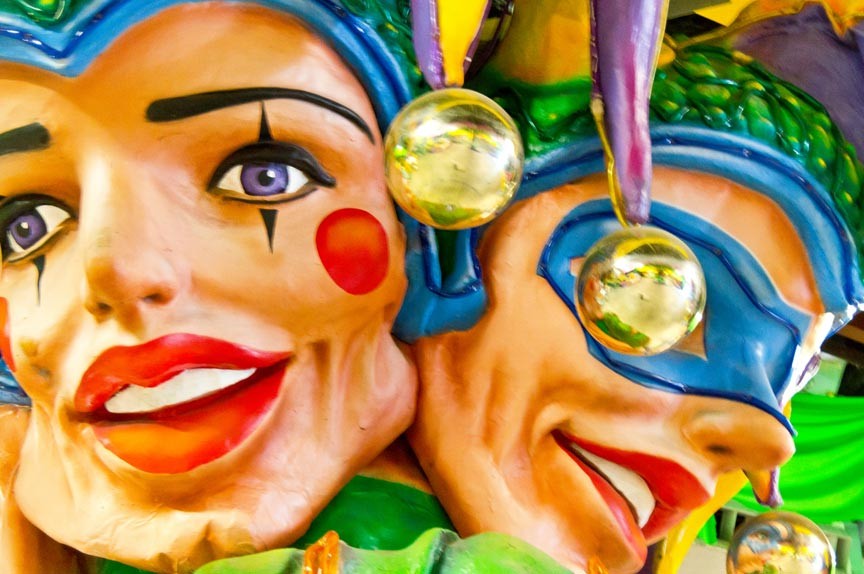 Eureka Springs' Mardi Gras celebrations have already begun – but don't fret! There's still plenty of fun things to do and see as Eureka Gras 2017 unfolds throughout the month of February!
Who doesn't love Mardi Gras? The colors, the masks, the music, the parades, throws, and floats. What fun! It's an event enjoyed around the world and no less in Eureka Springs than anywhere else!
This year's Eureka Gras theme is "The Roaring Twenties" and the Krewe of Krazo (Ozark backwards) has plenty in store. Just look!
2017 Eureka Gras Schedule of Events
Taste of N'awlins – Feb 4, 1pm to 3pm
at The Grand Central Hotel and Taverne
Umbrella Decorating – February 8, 5:30pm
at Eureka Live
ArtiGras – February 16, 6pm
at The Basin Park Hotel
Coronation Ball – February 17, 6pm
at the Crescent Hotel Crystal Ball Room
Eureka Gras Lights & Sound Night Parade – February 18, 6pm
on downtown Eureka on Spring and Main Streets
Second Line Dancing and Black Lite Ball – February 18, 7pm
at 39 Spring Street
Jokers' Masquerade Ball at the Inn of Ozark Convention Center – February 24, 6pm
Eureka Gras Costume Day Parade – February 25, 2pm
at downtown on Spring and Main Streets
Mayor's Ball: Red Carpet Masquerade – February 25, 7pm
at the Basin Park Hotel
Jazz Brunch – February 26, 11:30am
at the Crescent Hotel
St. Liz Cajun King Cake Ball & Mardi Gras Dinner – February 28, 6pm
at Parish Hall
2017 Eureka Gras
So come on out to Eureka Springs this February and get in on all the great Mardi Gras celebrations! Many of the events above require ticket for entry, so be sure to get yours now, before they all sell out!
Visit www.eurekaspringsmardigras.org for further information, tickets, and more details as they are released!
Laissez les bon temps rouler!
Eureka Gras Lodging
5 Ojo, a Eureka Springs B&B, is ready to be your home away from home during Eureka Gras. With an event this popular, however, we wont have room forever! To assure your comfort book your stay at 5 Ojo now!