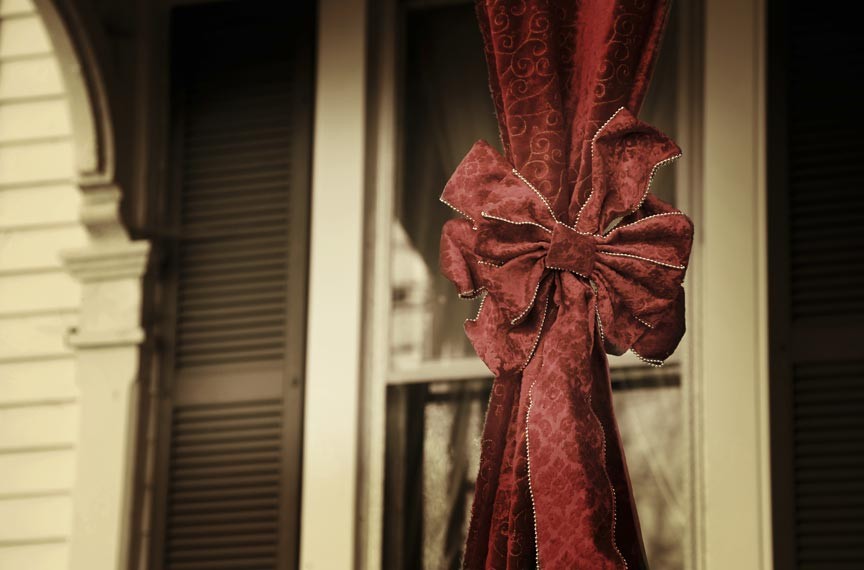 The 34th annual Eureka Springs Christmas Tour of Homes is set for December 3rd, 2016. This Victorian walking tour takes you to 12 of Eureka Springs' most beautiful homes, all decorated for the season.
Ah, Christmas. Is there any more beautiful holiday season? The snow, the lights, the scent of warm goodies, and all the festive decorations. Decorating your own home is part of the fun but so is seeing what others have done.
The annual Eureka Springs Christmas Tour of Homes lets you do just that – and more!
For over thirty years, the Christmas home tour tradition has seen Eureka Springs homeowners opening the doors of their festively bedecked, historic residences to visitors. The opportunity to share the joy of the holiday season as well as their fabulous Victorian era homes.
Each stop along the self-tour will include a Victorian attired docent. They will fill you in on the history of each home, the traditions of the Victorian era, and answer any questions you may have.
The event, put together by the Eureka Springs Preservation Society, includes a Christmas choir, band music, and carolers. There will be refreshments and lots of folks out and about in Victorian dress. All befitting one the largest historical districts in the United States.
Because these are historic homes, tour attendees should be prepared for numerous steps, stairs, and inclines. The tour usually takes around 1 to 2 hours to complete, so comfortable, rubber-soled walking shoes are suggested.
The Eureka Springs Transit Authority will have the 'red route' trolley circulating through the tour area until 8pm. Guests can park in one of the main Transit parking lots and take a trolley to the tour area. The trolley fee is included with your ticket when you board after 3pm the day of the tour.
Eureka Springs Christmas Tour of Homes
December 3rd, 2016, 3pm to 8pm
Tickets: $20 – 12 & under are free
Tickets may be purchased online or at the Eureka Springs Transit Station #1, 137 West Van Buren, on the day of the tour.
For more information, please visit: www.eurekaspringspreservationsociety.org
Eureka Springs Christmas Tour of Homes Lodging
5 Ojo Inn would love to be your host for your Eureka Springs getaway! At 5 Ojo Inn Bed & Breakfast, you'll experience Ozark hospitality, lush accommodations, and fabulous gourmet breakfasts. Our Eureka Springs B&B is just a short stroll from the fun and excitement in downtown, so book your stay today!